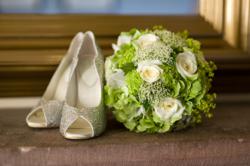 Newport Beach, CA (PRWEB) February 28, 2013
Sometimes the first time around in marriage sadly does not work out. Brides that opt to marry once more often end up planning a much smaller, much more intimate affair, says Wedding.com.
Jennifer Aniston, for instance, had a large wedding to first husband Brad Pitt. The wedding is said to have cost one million dollars. Years and one divorce later, she is engaged once again, this time to Justin Theroux and unlike her first wedding, she is keeping the celebration small (http://www.nydailynews.com/entertainment/gossip/jennifer-aniston-justin-theroux-set-wedding-date-report-article-1.1275096?localLinksEnabled=false). Aiming for a more intimate affair the second time around is no surprise to the experts at Wedding.com. They say many brides go all out for their first wedding in hopes it will be the only one in their lifetime. If, however, a bride finds herself planning her second wedding, she usually ends up opting for a much more low key event with less stress during the wedding planning.
"After being married once before, most people have a better sense of what is important to them on their wedding day," says Brett Reynolds, CEO of Wedding.com. "With that said, many brides find they would much rather celebrate their nuptials surrounded by close family and friends. That is likely why Jennifer Aniston is planning an intimate wedding, opposite of her million dollar wedding years ago."
For more information about Wedding.com, please visit http://www.wedding.com.
About Wedding.com
Wedding.com is an innovative new website that connects engaged couples planning their wedding with wedding vendors looking to grow their business. Wedding.com contacts vendors for couples, giving them the power to compare and negotiate while ultimately saving time and money. With 12,000 couples and 22,000 vendors currently using the website, 105,000 proposals have already been sent since their inception. Vendors range in services from wedding planners, photographers, florists, and DJs to custom invitations, party favors, and much more. For additional information about the company and its services, please visit http://www.wedding.com.