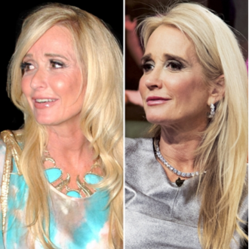 Los Angeles, California (PRWEB) February 28, 2013
We all have an appreciation for beauty and impressive work. Celebrities, such as Kim Richard's have that same appreciation for what is aesthetically pleasing. As explained in her blog, after attending a consultation for one of her friends with Dr. Vladimir Grigoryants, and coming highly recommended by her sister Kyle, Kim knew that he was the nose surgeon for her. She had seen 1000's of before and after pictures of his patients rhinoplasty results and decided to schedule a consultation of her own.
Kim Richards felt safe and confident with Dr. Grigoryants. After seeing his work and the beautiful results he was able to achieve she knew that he knew noses and that he would be able to create a shape that she was happy with. Dr. Vladimir Grigoryants is a board-certified plastic surgeon and offers several state of the art features to make sure all of his patients know exactly what they can expect. For example, the Doctor will take a before picture of you and using the computer, show you how the nose can be reshaped. This way, different realistic versions of your nose can be produced and you are able to see different possible results. The Doctor also has improved the technique for a scar-less rhinoplasty (closed rhinoplasty) so that his results are consistent and look natural. Kim felt comfortable with Dr. Grigoryants because she loved his personality and his extreme care to follow up with her during recovery.
Kim felt that her recovery would be more difficult because she would have to do so without any pain medications. However, following her surgery with Dr. Grigoryants she reported no pain, no swelling and no bruising. She was advised to stay in bed and rest, but feeling so good it was hard to keep her down. During this time, the doctor was calling to ensure that she was comfortable and her recovery was going smoothly. Just five days after surgery, Kim was ready to go out and visit with some friends. Unexpectedly, her dog happened to bump her nose causing extreme pain. Being just 5 days after surgery, the bones in the nose were fragile and not yet secure.
As the swelling began to fade, Kim noticed that her nose still had a small bump. Dr. Grigoryants was able to use a small injection to restore her new noses original beauty. Kim is extremely happy with her nose surgery results and is feeling more confident than ever.
If you are unhappy with the appearance of your nose, don't fret! Dr. Vladimir Grigoryants can help you just like he was able to help Kim Richards of the Real Housewives of Beverly Hills. Call today at 818-952-7070 or, schedule your consultation online and start the process to a new more confident you!