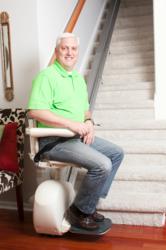 Had my Meditek Stairlift installed by Maryland Mobility Lifts over 3 months ago and it's the by far the best investment for my mobility I have ever made. Mr. Taylor, Pasadena, Maryland
Owings, Maryland (PRWEB) February 28, 2013
In order to provide the best support possible for their clients and customers, Maryland Mobility Lifts have begun to make proactive steps in their stairlift offerings with Meditek Stairlifts.
Meditek Stairlifts is a global stairlift company that is now offering stairlifts in the US.
All Meditek stairlifts come with standard features such as, fold up padded seat, armrests, and footrest, safety belt, and an over speed governor that acts as an emergency brake in the unlikely event that the motor should fail. Several other standard safety features such as footrest safeties that detect obstructions on the stairs are built into the lift. There is even a built in digital display that tells the customer the operational status of the stairlift.
Meditek also offers an industry first with a constant rail charger. This means that the customer can park the stairlift anywhere on the rail, not just at the top or bottom. All of the stairlifts from Meditek are battery operated, so in the event of a power outage, the lift will work for the customer no matter what.
Meditek also has several options such as the choice of color for the seat cushions. There are 8 color fabrics to choose from, so the stairlifts will fit into any décor in the home.
Some other options are a manual and power fold up "hinged" rail. This "hinged" rail is used in applications where there is a doorway, or obstruction at the bottom of the staircase. The rail folds up out of the way to eliminate a tripping hazard at the bottom of the staircase.
All Meditek stairlifts come with a lifetime drive train warranty and a 1 year all inclusive parts and labor warranty.
About Mobility Lifts:
Mobility Lifts specializes in high-quality stairlifts, as well as installation and repair of mobility equipment. It provides 24 hour a day customer service throughout Delaware, Maryland and Virginia seven days a week. Mobility Lifts also offers factory-trained technicians and next day installation on mobility products. To explore what Mobility Lifts can do for you, visit http://www.MarylandMobility.com or call 866-235-9366.