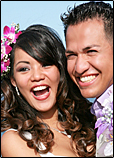 Kona, Hawaii (PRWEB) February 28, 2013
Maui'd Forever is one of Hawaii's few full service, all-Hawaiian Islands wedding planner and coordinator. Founded in 2003 by entrepreneur Mark Steffan, the company operates on the Hawaiian Islands of Oahu, Maui, Kauai and the Big Island of Hawaii.
Maui'd Forever is please to offer a wedding web page for all of their wedding clients. There is no charge for this service you simply need to hire Maui'd Forever and use any of their packages for your Hawaii wedding.
The web page can be very useful in letting ones family and friends know the details of your wedding. The page usually has a picture or two of the couple and a brief story on their coming together. Other details tell of the wedding location and time. If a reception or luau follow those details too are included.
The real value to many of their clients is the contact information of the main wedding coordinator. They can contact her to inquire about travel and accommodations to the Islands. She will know the details to the wedding, where the couple is staying and can offer travel packages that have a meet or beat price guarantee.
The wedding couple after making their wedding booking simply emails the pictures and the pertinent information and Maui'd Forever owner Mark Steffan builds the page and will even make edits as needed. Mr. Steffan says "Not everyone takes advantage of this offer but I have found that for those that do it has been an invaluable service. And the price is certainly right".