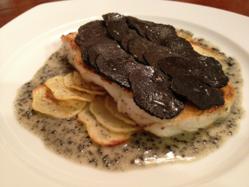 According to Mirepoix USA, a leading online source for top quality fresh truffles,
the season for France's celebrated Périgord black truffles will very likely continue though mid to late March.
Reno, NV (PRWEB) February 28, 2013
Périgord black truffles are usually available from late November through early to mid March. According to Mirepoix USA, a leading online purveyor of specialty gourmet foods, the 2012 -2013 black truffle season started late, with ripe specimens only becoming available in mid December. High quality French black truffles are expected to be available in US markets though mid to late March.
Black truffles (Tuber melanosporum) are the most highly desired of all the French truffles. Fresh black truffles from the Périgord region are prized by chefs and epicures throughout the world for their intense flavor and aroma. According to Mirepoix USA founder, Laurel Pine, black truffles reach their pinnacle of fragrance and flavor in January and February; however, very good quality black truffles are expected to be available through the first few weeks of March.
Mirepoix USA founder, Laurel Pine, recommends cooking black truffles, rather than using them raw, because the pungent truffle flavor is released and intensified by heat. Black truffles pair well with a large variety of foods including red meats, seafood and shellfish, poultry, game, and mild bases such at potatoes, polenta, and pasta. Pine suggests using fresh Périgord truffles to make Tournedos Rossini, a classic French recipe, which includes beef filet, black truffles, and seared foie gras, served with a rich Madera demi glace sauce. Other options include steamed lobster with Périgord black truffle butter, and black truffle Chilean sea bass with potato crisps and black truffle butter sauce. Mirepoix USA's recipe blog, http://blog.mirepoixusa.com contains twenty black truffle recipes.
According to Mirepoix USA, black truffle connoisseurs have several options off-season, including flash frozen black truffles, which are the best alternative to fresh truffles. Flash frozen truffles are best when cooked with butter, cream or meats high in fat. Preserved black truffles are suitable for some preparations, though the flavor and aroma is much milder than fresh truffles. Pure truffle oil, truffle butter, and truffle salt offer additional alternatives for those who want to impart black truffle flavor to their dishes. Lastly, Fresh Australian black truffles, available June through August, are an excellent choice for truffle connoisseurs who desire black truffles off-season.
Mirepoix USA sources the highest quality specialty gourmet foods and traditional French foods from manufacturers and importers across the United States. The company currently offers over 40 foie gras selections; fresh truffles including summer truffles, Burgundy truffles, Perigord black truffles and Alba white truffles and well as truffle based products; French charcuterie, and a wide selection of caviar. In recent years the online retailer has expanded product offerings to include Wagyu and US Kobe beef, French cheeses, gourmet gift baskets and luxury culinary tours in Italy and France.
To purchase fresh Périgord black truffles from Mirepoix USA, visit http://www.mirepoixusa.com or call 866-992-9559.