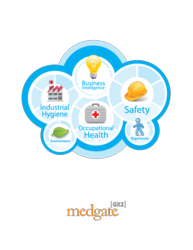 "By providing these two solutions, Medgate is able to cater to the wide-ranging needs of organisations requiring occupational health, hygiene, and / or safety data management." - Jo Henderson, Medgate Sales Manager, EMEA
(PRWEB) February 28, 2013
One year after acquiring UK-based Cohort Inc., Medgate UK will be participating once again in the Health and Wellbeing at Work conference in Birmingham, UK from March 5-6. The company will be showcasing both its flagship 'Medgate' enterprise software for occupational health and safety management and Cohort, a UK-based occupational health software solution. The products will be of interest to any professionals involved in occupational health, occupational hygiene, and/or safety within their organisations. Delegates are invited to discuss these solutions with representatives from both companies.
"We are pleased to exhibit both our Medgate and Cohort products at Health and Wellbeing 2013," states Jo Henderson, Medgate Sales Manager, EMEA. "By providing these two solutions, Medgate is able to cater to the wide-ranging needs of organisations requiring occupational health, hygiene, and / or safety data management. We are looking forward to meeting delegates, sharing best practices, and discussing how to address occupational health and safety data challenges."
With a customer roster of some of the world's largest organisations, Medgate is a global leader in occupational health and safety (OHS) software. Its enterprise integrated OHS software allows companies to standardize and streamline data and gain business intelligence to improve OHS performance. The Cohort product caters to NHS occupational health departments as well as small and medium British and companies requiring effective occupational health data management.
The Health and Wellbeing at Work conference, now in its seventh year, attracts up to 3000 professionals from within the occupational health industry from across the public and private sectors. Medgate will be at Booth number 77.
About Medgate
Medgate™ is the leading global provider of software for occupational health and safety data management. Available in multiple languages, Medgate software is used across the globe in hundreds of the best known corporations and government entities. Its software products include powerful reporting capabilities, and comprehensive tools to manage occupational health, safety, occupational hygiene, environmental, and ergonomic data.