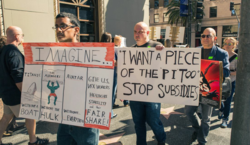 Where's Jimmy Hoffa when you need him? - Ryan P. Wilson
Waterloo, Ontario (PRWEB) February 28, 2013
Authority FX has released an in-depth blog post in regards to the current upset in the visual effects (VFX) industry.
Hard working VFX artists are all too aware of the miserable state of the VFX industry. While is may seem to be a recent development, it is not. The VFX business has been in trouble for a long time and it's been a steady race to the bottom. Twitter and Facebook profile pictures are going green in waves as VFX artists around the globe band together in solidarity.
What's it all about?
-Studio work for flat-rate rock bottom prices
-Artists are overworked and underpaid
-Artists seldom have access to benefits, retirement, or healthcare plans
-Artists work contract-to-contract, studio-to-studio living a nomadic life
-Tax credits are destroying the industry
During the 85th Academy Awards there was a visual effects protest taking place outside the theater made up of more than four hundred artists – many of whom contributed to the stunning Life of Pi. Inside, where the same film won numerous Oscars, the blog post notes there was a complete lack of respect shown to visual effects artists and personnel. Rhythm & Hues Studios, the Oscar winning VFX company behind Life of Pi filed for bankruptcy under Chapter 11 on February 11, 2013; as a result, approximately 200 artists were laid off. (http://www.latimes.com/entertainment/envelope/cotown/la-et-ct-rhythm-hues-bankruptcy-filing-20130211,0,4416813.story)
The blog post goes on to note there are currently thirteen unions representing nearly every aspect of Hollywood and not one represents VFX artists specifically.
Ryan P. Wilson will be attending a round table meeting in Toronto on March 8th to address these issues with local industry peers. He will report back via the Authority FX Blog. There are more talks like this one being planned across the globe.
Share this blog and GO GREEN in support! VFX Solidarity International now has over 60,000 likes and counting. Like them!
________________
Athority FX is a boutique visual effects studio conceptualized in 2007 by founding partners Justin Rader and Ryan P. Wilson. Authority FX is dedicated to creating high quality digital visual effects for both film and television productions.