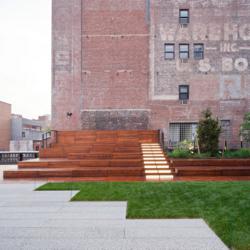 (PRWEB) February 28, 2013
To help preserve the world's remaining rain forests and to support the community of Avon, NJ in its recovery from Superstorm Sandy, TerraMai, an Oregon-based reclaimed wood company, offers to remill any of the town's remaining boardwalk material at no cost.
The company also offers to provide sustainable reclaimed tropical hardwood decking as an alternative to the rainforest-cut ipe currently under consideration by the town. The community's plan to replace the storm-ravaged boardwalk with rainforest ipe has ignited protest among environmentalists, as reported Monday by the Associated Press.
"As a pioneer and leader in the reclaimed wood industry, TerraMai is uniquely qualified to provide Avon with a great solution," said TerraMai CEO Ken Westrick. "We can help them reuse any remaining material salvaged from the storm and provide an eco-friendly alternative to rainforest ipe."
TerraMai assisted the City of New York in a similar situation by providing reclaimed teak decking for phase two of the city's landmark High Line project. The city experienced a rash of protest and negative publicity after using rainforest-cut ipe for the first phase of the project. The TerraMai reclaimed teak used for the High Line project came from old factory buildings and aging houses in Southeast Asia.
Other notable examples include the upscale Mondrian Hotel project in Los Angeles, where TerraMai salvaged a failing ipe deck and replaced it with reclaimed teak, as well as the REI SoHo project, where TerraMai reclaimed material from the historic Puck Building for reuse in REI's much-publicized renovation of the building. TerraMai also supplied reclaimed teak decking as a sustainable solution for the high-profile Imagination Playground project, which also involved the City of New York.
Only tropical hardwoods offer a viable solution for demanding projects like these and Avon's boardwalk, where extreme weather conditions combine with incredibly high-volume pedestrian traffic. Reclaimed wood, specifically, offers a more eco-friendly alternative to virtually any other material. It also offers a more natural, and many would assert more aesthetically pleasing, alternative to other materials like petroleum-derived synthetic decking and concrete.
In addition to reclaimed teak, TerraMai recently introduced reclaimed water-recovered tropical hardwoods, including makore and iroko, which are ideal for decking applications like Avon's boardwalk. These woods are sustainably harvested under water from forests flooded decades ago to create reservoirs in tropical locations overseas.
"We are excited about these new woods and their potential to completely negate the use of rainforest-destroying tropical wood decking products," Westrick said. "We would be thrilled to help Avon find a sustainable solution to their problem and to work with any other communities or entities facing a similar decision."
TerraMai works with top architects, designers, builders and manufacturers to provide one-of-a-kind reclaimed wood products for projects of all types and sizes. TerraMai's project list includes Google, Stanford University, Ritz-Carlton, The U.S. National Park Service, New York University (NYU), Four Seasons and the City of New York. Our 22 years of experience, expertise and custom capabilities enable us to serve as a resource for leading architecture and design firms, such as Gensler, Callison, HOK, Perkins+Will and others. TerraMai has also worked on residential projects in locations such as The Hamptons, Beverly Hills, Chicago, San Francisco and many more.
For more information, contact Matt Nichols at 541-973-2305 or matt(at)terramai(dot)com