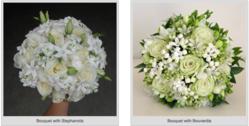 Ojai, CA (PRWEB) February 28, 2013
With over ten years in the wholesale wedding flower business and over 50,000 brides served, FiftyFlowers.com is here to help provide affordable flower solutions to all brides. They have put together an easy to follow guide that will help brides stay on trend and under budget. Recent reports on 2013 wedding flower trends have noted a shift to fuller, lavish bouquets and centerpieces. Follow this guide for ideas on creating these trendy looks while sticking to a budget.
-Create Faux Hydrangeas from Carnations Flowers
Hydrangeas are always a popular request at FiftyFlowers.com, but many brides consider them too expensive or delicate, it is important to remember that a single hydrangea bloom can fill the same amount of space as four to five rose blooms which leads to that larger price tag. Create a faux hydrangea by clustering together nine to twelve carnation blooms and wrapping the stems together with a rubber band or floral tape. Carnations are hearty, fluffy and long-lasting and a very affordable flower option. Carnations are also available in a wide range of natural colors.
-Replace Floppy-Headed Dahlias with Sturdier and less Expensive Cremon Mums
Dahlias are gorgeous focal flowers, but these summer beauties can be difficult to find other times of year and can also be pricey. A cost effective alternative is the 'Dahlia-style' Cremon Mum which is available year round, has a strong upright bloom that is easier to work with than the often floppy-headed Dahlia and available in both natural and tinted colors to meet the need of almost any wedding colors. Mums have a longer vase life than Dahlias and for the same price a bride can get almost three times as many Mums than Dahlias.
-Peonies Can Be Pricey and Seasonal but Garden Roses are Fabulous Too
Peonies are one of our wedding flower favorites and they are predicted to be the 'wedding flower of the year' for the third year in a row, but they are also the priciest flower of all. Floral designers highly recommend garden roses as a peony substitution because of the way in which the flower resembles a peony when it opens. In fact, many of the Garden Rose varieties are also known as Peony Roses. These roses are also known for their sweet fragrance and are available in a wider selection of colors than the peony.
-Stephanotis Requires Wiring; is Bouvardia Better?
Stephanotis is a sweetly scented flower that blooms to form a small five-point star. Due to their short stems they require wiring, which can be time consuming. Bouvardia comes in a similar, slightly smaller star-like shape but comes clustered atop sturdy stems, which means no wiring is required and there is more than one bloom per stem. Stephanotis is only available in white, while Bouvardia is offered in white, light pink and dark pink. Since you receive more than one bloom per stem with Bouvardia you also save money compared to Stephanotis.
For more information on FiftyFlowers.com wholesale wedding flowers visit the website or browse their Pinterest page or Blog for photos showing these ideas in action. FiftyFlowers.com carries over 2,000 flower varieties, shipped directly from their farms to your door. They specialize in wholesale flowers for the do-it-yourself bride or event planner and pride themselves in having excellent customer service available via phone, email or live chat coupled with a 100% wedding day guarantee, which guarantees the quality of their flowers to every customer. They also provide their customers with extensive DIY information in the form of videos, a continuously updated blog, complementary phone consults with floral designers, and social media.