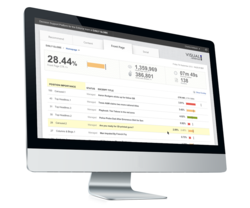 Visual Revenue is now one of the largest content optimization solutions available on the Web, as the company tracks and measures the success of over 13.5 billion pages each month
New York, NY (PRWEB) February 28, 2013
Visual Revenue, Inc., the leading provider of tools to enhance the hand of online editors, today announced the completion of a record month of activity on its editorial support platform. Founder & CEO Dennis Mortensen attributed the surge in usage and sales activity to the increased confidence of editors to deploy real-time audience data as a deputy to support their editorial judgment in managing content.
Visual Revenue is now one of the largest content optimization solutions available on the Web, as the company tracks and measures the success of over 13.5 billion pages each month from a who's who of the world's most recognized news and information brands. The company treats each of those media properties independently, and it injects both the editorial guidelines and human decision-making process into their algorithms, thus enabling each editorial team to define success on their own terms and with their own objectives.
"This big growth spurt underscores the amazing science behind our content recommendation engine and our understanding of the role that editorial judgment plays in delivering great journalism online," said Dennis Mortensen, Founder and CEO of Visual Revenue. "It's the editors who, understanding what is relevant and engaging, quickly make informed decisions about what content people see. They are still the kings and queens of the data driven newsroom."
Launched in 2011, the Visual Revenue Editorial Support Platform has quickly grown into a global force for editors to get data-driven input and support for the instantaneous decisions that they make every day. The platform is a real-time predictive analytics solution that helps editors by reducing the complexity of managing content online. These editors determine the narrative for billions of pieces of content that flow through media companies and onto the desktops, tablets and mobile screens of internet users worldwide.
Instant Headline Testing is one feature that the company launched in the summer of 2012, pioneering the move to deliver not only real-time support, but real-time, data-driven action tools for editors. It has now grown to be an indispensable part of editors' daily routine. Mortensen said this feature alone has seen a tripling in usage since the beginning of the year. "It's pleasing to see, since this means that more editors are comfortable with just this type of data-driven tool and the support role it plays for them," he said. "They are more confident in every one of their intuitive decisions, because those decisions are now being informed and supported by data -- and that combination serves their audience very well."
USA Today Sports Media Group recently expanded its relationship with Visual Revenue, joining Comcast, and The Globe and Mail as leading properties that have deployed the platform with success. During the 2012 London Olympics, USA Today was able to boost their Olympics sports coverage by 57% as one of the first properties to use the innovation. It has come to embrace the tool as a means to better engage readers.
"Our digital team is always looking for ways to write creative, engaging and appealing headlines that will make our audience want to click," says Tim Gardner, Assistant Managing Editor at USA TODAY Sports Media Group. "Headline testing helps us quickly decide which headline to choose, ensuring we maximize the appeal of every story. It can help ensure our headlines not only catch the eyes of consumers, but encourage readers to click and explore the full coverage USA TODAY Sports is known for."
Visual Revenue began the month with the introduction of its Social Editorial Suite, expanding their tool set to measure success and failure in social media. "For editors, the social media channel is a critical path to introduce content to new audiences," said Mortensen. "We see it as one of several complementary channels, where we can offer editors two very straightforward promises. First, a clear measurement of their content's success at every minute of every day; and second, a set of polite suggestions on what to do next."
In addition to the expanded relationship with USA Today, Visual Revenue also brought on new customers from around the world, including, the Dallas Morning News, Gothamist, Scientific American, Time Warner Cable's Roadrunner, Philly.com, and Interia.pl, one of Poland's leading online portals. The company's platform is now deployed on more than 250 media properties globally, with close to 2,000 editors regularly using its data-driven recommendations and decision support.
About Visual Revenue, Inc.
Visual Revenue, Inc. provides media organizations with tools that enhance the hand of online editors and improve performance. The Visual Revenue Editorial Support Platform helps editors to better place content, providing real-time recommendations and predictive analytics to more than 250 global online publishers, including Comcast, The Atlantic, Dallas Morning News, NBC Universal, Cox Media Group, Le Monde, The Independent, and News International. The company was founded by former IndexTools (now Yahoo! Web Analytics) COO Dennis R. Mortensen and is headquartered in New York. For more information, visit http://www.visualrevenue.com.