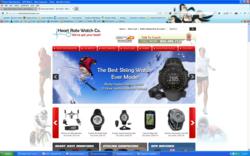 You see unlike bloggers we have to make real money investments in these products so the difference is we don't promote the crap and the stuff that won't sell or perform well
Bozeman, MT (PRWEB) February 28, 2013
The Heart Rate Watch Company recently launched a new homepage that is updated with all the latest news and press releases about heart rate monitor, GPS watch and bike computer products from all the best manufacturers.
"The decision to do this was real simple because Google seems to be favoring bloggers who act as affiliates to large online retailers, like Amazon, and have no inventory "skin in the game" and they basically add fresh content daily to their sites", says Rusty Squire, President of the Heart Rate Watch Company. He adds, "After the Penguin and Panda algorithm updates that Google made last year it became abundantly clear that their algorithms were tweaked to support all their top advertisers, and the feeder network of bloggers who supported them, and it has killed thousands of smaller retailers".
Heart Rate Watch Company produces reviews, press releases and almost daily content on everything fitness but had never added that content directly to their website. "Now it gets added directly to the homepage every single day", says Squire. He adds, "People can scan our stories read the headline and a teaser and decide whether to read more".
The company is tracking articles on nearly every important product and development in the industry, or at least those they feel are worthwhile. "You see unlike bloggers we have to make real money investments in these products, so the difference is we don't promote the crap and the stuff that won't sell or perform well", says Squire. He adds, "We get rid of that stuff real quick so the consumer is left with a very sifted level of product they can rely upon - its not at all like Amazon".
Of course, consumers being able to directly talk to Squire and the other product testers has always been a big part of the company's strategy. "We call it the real expert help model as opposed to the no help model, which is what you get at 90% of the online shopping malls", says Squire. He adds, "In fact, we write books on how to use these products and provide real resource tools to the consumer, in the end we feel that good service wins out".
"Our philosophy is that there is real room for "high touch" in today's market because company's, like Amazon, employ too much "high tech" and no touch, thus a consumer buying a sophisticated GPS watch like a Garmin fenix can't find help", says Squire.