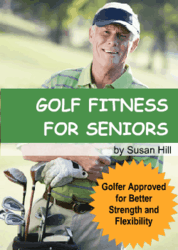 Promoting strength and flexibility can keep seniors golfing longer and limit injuries.
Bend, Oregon (PRWEB) February 28, 2013
"Golf Fitness for Seniors" is now available on the Kindle for avid senior golfers who worry that as they age that they will lose power in their golf game or become sidelined due to injury. Former president of Fitnessforgolf.com, Susan Hill, works to relieve these fears by teaching seniors exercises focused on improving strength and flexibility in her book, "Golf Fitness for Seniors"
According to Hill, promoting strength and flexibility can keep seniors golfing longer and limit injuries. The increased strength and flexibility aids in maintaining a competitive swing and keeping energy levels up. It also provides crucial protection against injury. The greatest fear of any athlete is injury. Hill tackles that fear head on and provides tips on avoiding being forced away from the game.
"Doing the right exercises, the best stretches and eating for energy and longevity can make a huge difference in shaving strokes off your scorecard as well as playing your best golf, at any age," Hill says.
The book, currently available as a Kindle download, also provides nutritional advice geared towards senior golfers. Hill believes that golfers at any age can boost their scores by eating well and conditioning their body. As an avid golfer, Hill was inspired to write this book by her own game. She knows the passion golfers feel toward the game and wanted to help them prolong their time in the sport.
"I wanted to provide seniors as well as those who do not consider themselves as fit as they want to be, an opportunity to play the best golf they can at any age. It's never too late to gain more strength or improve your flexibility and protect your body from injuries. Golf is a game for life and I wanted to be able to provide exercises, stretches and nutritional strategies to make sure I keep golfers out on the course for a lifetime," Hill continues.
About the Author
Susan Hill has written for Golf Illustrated, Resort Living, and the Junior Golf Scoreboard. Her 8 books on golf include her most recent published work: Going for the Green: Prepare Your Body, Mind and Swing for Winning Golf. She holds certifications as a golf fitness expert, fitness trainer, sports nutritionist, youth conditioning specialist, golf biomechanics and flexibility expert. She has helped over 106,000 golfers in more than 27 countries get fit for golf including top juniors, college teams, professional golfers on tour and seasoned amateurs.