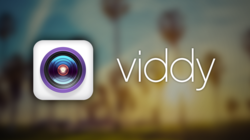 Los Angeles, Calif. (PRWEB) February 28, 2013
Connecting people through mobile video sharing, Viddy today announced a new version of its free iOS app, designed to make it easier for people to create, beautify, share and discover social videos from an iPhone, iPod touch, or iPad.
Viddy 2.0 for iOS introduces a new 30-second video recording format and 15 all-new video filters to offer more options for creating fun, engaging social videos. The app includes a new user interface to simplify the process of creating, sharing, and curating videos. Viddy 2.0 aims to create a more personalized experience that enables people to easily discover videos based on their interests and location. The updated app's features are based on feedback and data gathered from the Viddy community.
New Viddy Mobile Video App Features include:

30-second video capacity, up from 15 seconds
Eight new audio tracks to use as video soundtracks, from artists such as Snoop Lion (Lighters Up), fun. (Carry On), Grouplove (Tongue Tied), and the Lighthouse and the Whaler (Pioneers), with real-time previewing
15 new video filters ranging from "Soho" with warm blue, green and yellow tones and a splash of vibrance, to "Winward" for that vintage feel with a touch of green, all with live rendering as you shoot
The ability to pause and resume as you film (up to a total of 2 minutes), then stitch clips together to create a finished 30-second video
A stop-motion-capture simulation, with simple toggle-based frame rate adjustments (6, 12, 30 frames per second options)
New user interface with socially relevant feed that features content based on people's affinities and preferences
Simplified social video descriptions with hashtags, @ mentions, and links
Swipe-based navigation for quick access to entertaining videos and interesting people
New Explore section with curated video categories and trending hashtags
Geo-feeds support video discovery by region and current location
Verified user program for celebrities, influencers and brands
Availability in 16 languages
Online video has more than 182 million unique viewers who watch a combined 38.7 billion videos monthly, according to comScore's U.S. Digital Future in Focus 2013 report. In 2012 alone, there was a dramatic shift of consumers from desktop to mobile, which is expected to continue in 2013. Mobile social video app developers such as Viddy and their communities are poised to benefit from this shift.
Initially launched on iOS, Viddy recently released a free Android mobile video app which maximizes the capabilities of Google's Android operating system.
"The social mobile video space is still in its very early days, and we're focused on innovating and building the best product for people to create, share and discover video content," said JJ Aguhob, co-founder and president of Viddy. "We've spent two years learning how people want to create and share video, and we've applied those learnings to Viddy 2.0."
Availability
Viddy 2.0 for iOS is now available on iPhone, iPad and iPod touch devices and can be downloaded for free in the Apple iTunes Store. Viddy for iOS is available in 16 languages: Arabic, Chinese (Simplified), Chinese (Traditional), English, Filipino, French, German, Italian, Japanese, Korean, Polish, Portuguese, Russian, Spanish, Swedish and Thai.
About Viddy
Viddy is a mobile video app designed to connect people through the power to easily create, beautify and share short videos with friends and family using mobile phones and tablets. The app is available as a free download for iOS and Android smartphones and tablets. Many developers are also using the Viddy API to incorporate mobile social video into their app experiences. Explore Viddy videos at http://www.viddy.com and follow Viddy on Twitter (@viddy) and Facebook.
###