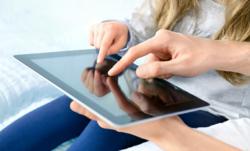 Tablets today are more and more prominent and are transforming the way SLPs are practicing daily.
Huntersville, NC (PRWEB) February 28, 2013
Throughout the past few months there has been an unquestionable increase in the amount of technology used in the classroom and throughout education. When the iPad was first released, few could predict the impact it would have in schools and how useful it would become to Speech-Language Pathologists. According to a recent study by the International Data Corporation, 23 million Apple iPads were sold in Q4 which was a solid increase from the last quarter's 14 million. Tablets today are more and more prominent and are transforming the way SLPs are practicing daily. They have advanced both their function and usability.
Each day, Speech-Language Pathologists help more than 24 million Americans with communication disorders learn to cope and overcome their limitations. And as a result, they have turned to tablets because they are able to record conversational samples, collect data and motivate students. Students have responded well to tablets because they include fun and motivating learning applications and are similar to some of the technologies they have used before, i.e. the Android or iPhone.
Additional benefits include the fact the iPad is portable and only weighs between one and two pounds. Speech-language pathologists who require a large cart of materials can now just bring along this one device. Therapists are easily able to pack up the tablet and take it from client to client.
Tablets are also affordable. Even Apple's iPad, which is one of the more expensive tablets starts at $499, and applications are often under $40 each. For a technology that can be used with every patient, this saves therapists from purchasing additional materials making it cost efficient.
There are hundreds of Speech Therapy applications available; here are some of our favorites.
ArtikPix Full version 2.2 - is an update with flashcard and matching activities for children. It utilizes speech sound delays through 21 decks for the following sounds: th, f, v, ch, sh, k, g, s, z, l, r, s-blends, r-blends, l-blends, p, b, m, n, t, d, j. The decks are combined, selected for sound group, then practiced in full-featured flashcard and matching activities. The features include recorded audio, voice recording, and scoring (aka data collection).
Language Forest - is called Language Forest because the developers view each word in a language as being analogous to a tree. Though each word has a "trunk" or meaning of its own, it also has many roots and branches. Language Forest is built around the concept that users can find the primary meaning of the words as well as how it can branch off into related words and real life experiences. This affords people with a deeper understanding of a word, but also greatly improves retention. Users can create their own decks and flashcards, as well as fill in their own "branches."
Verbally - is an easy-to-use, comprehensive augmentative and alternative Communication (AAC) app for the iPad. Verbally brings speech to those without and enables real conversation with its simple, intuitive design. Just tap in what you want to say and Verbally speaks for you.
Rainbow Sentences - is designed to help students improve their ability to construct grammatically correct sentences by using color coded visual cues.
iName it - was designed by and for speech-language pathologists to assist individuals with word finding difficulty secondary to aphasia. Additionally, it can benefit individuals with apraxia that are assisted by visual and sentence completion cues.
SLP Goal Bank – is an app that can be used as a clinical tool for speech and language pathologists. It is designed to serve as a starting point when creating goals for clients with speech and language delay, following the guidelines provided by various training programs worldwide. They have been developed as a guide to planning appropriate intervention for patients/clients with a range of communication and swallowing disorders.
About ProvidaStaff, LLC
ProvidaStaff, LLC is a leader in providing comprehensive healthcare services in education and medical settings nationwide including schools, rehabs, hospitals, outpatient clinics, nursing homes, and earlyintervention programs. ProvidaStaff offers numerous career opportunities through national networks throughout the United States. Founded in 2007, ProvidaStaff, LLC started with a vision to increase the quality of life to individuals in need of healthcare services and continues that effort today.