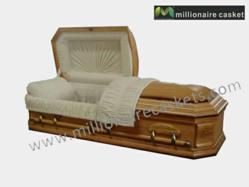 (PRWEB) February 28, 2013
Today, MillionaireCasket.com announces the addition of solid oak wood caskets to its product line. According to Zoe Wong, CEO of the company, they will develop new products continuously to meet the increasing needs for high-quality caskets at affordable prices.
The solid oak wood caskets from MillionaireCasket.com are handcrafted like fine furnitures, and each of them has its own unique graining pattern. The natural warmth and beauty of oak wood is available in a variety of types and species. The interior material of an oak wood casket is typically either velvet or crepe.
According to Zoe Wong, CEO of the company, oak wood has a density of about 0.75 g/cm3, great strength and hardness, and is very resistant to insect and fungal attack because of its high tannin content. Consequently, solid oak wood caskets are very popular in the market.
"We manufacture oak wood caskets in a wide selection of designs and styles. They are 100% manufactured with the high-quality craftsmanship and materials. Each kind of wood has its own characteristics, such as grain, color variation, texture, knots, and so on. These natural marks make each type wood casket unique," says, Zoe Wong. "Call our Casket Consultants at +86-158-6279-5457 for any casket questions you may have about this selection or any of our other products and services."
In addition to solid oak wood caskets, MillionaireCasket.com is also offering urns, embalming tables, church trucks, stretchers, church furniture, metal casket products, and other related funeral products. Moreover, MillionaireCasket.com provides OEM service to those who have special requirements.
About MillionaireCasket.com
MillionaireCasket.com is a leading casket company from China, and focuses on the business of casket wholesale for any casket distributor all over the world. They provide an exquisitely crafted line of all kinds of metal caskets, solid wood caskets, veneer caskets, cremation caskets, rental caskets, orthodox caskets, infant or over-sized caskets and European style coffins.