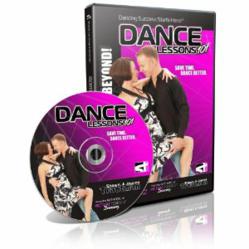 Sold around the world, this one DVD has taught more people to dance the Swing, Salsa, Waltz, Cha-Cha, Hustle, Two-Step, Slow Dance, and West Coast Swing than any other product we've ever released
Clearwater, FL (PRWEB) February 28, 2013
Ten years ago on March 15, 2003, operations began for Shawn Trautman's startup business in Clearwater, FL that set it's goal on becoming a game-changer in the dance instruction industry. Armed with an MBA from USF, 10+ years of teaching experience, a solid business plan, and unbridled determination, Shawn quickly assembled a team and proceeded to develop some the backbone of what would become one of the industry's leaders in dance lesson products.
As a small business in a very competitive field, the early years were filled with developing fun and unique dance seminars, doing exhibitions, attending wedding shows and social events, testing curriculum and, of course, collecting data. The development and refinement of the Shawn Trautman Instruction brand paved the way for a much larger venture and a complete business plan redirection to include dance videos, therein launching Dance Videos Direct, the production studio.
Since early 2005, Shawn Trautman's team has built a full light and sound controlled production studio, launched two major brands, authored and developed the instruction model for the Picture Yourself series, and released 78 full dance lesson DVDs. Dance Videos Direct's leading brand, Shawn Trautman Instruction, now includes 61 full instruction titles and features the best-selling DVD, Dance Lessons 101, which has led the way for the last several years.
To commemorate Dance Videos Direct's 10 Year Anniversary celebration on March 15, 2013, Shawn and his team chose to send out free copies of their best selling DVD (Dance Lessons 101) on a first-come, first-serve basis to visitors of shawntrautman.com (visitors who sign up early will get an email reminder when the celebration starts). Dance Lessons 101 is proof that learning to dance through DVD is not only possible, but very probable and affordable.
Dance Lessons 101 is over 2 hours of non-stop beginner level dance instruction that literally starts from the floor up and gets brand new dancers moving in minutes. "Sold around the world, this one DVD has taught more people to dance the Swing, Salsa, Waltz, Cha-Cha, Hustle, Two-Step, Slow Dance, and West Coast Swing than any other product we've ever released," says Shawn Trautman, founder and CEO of Dance Videos Direct.
Now, 10 years after opening his small business, Shawn Trautman is looking ahead and planning several competitive moves that will strengthen Dance Videos Direct's footprint on the dance industry. As a starting point, the Dance Lessons 101 giveaway on March 15, 2013 will mark a significant event in the company's history and will be the first of many large-scale events the company plans to hold while getting people dancing.
Founded as an alternative to traditional ballroom dance instruction, Dance Videos Direct has reinvented the way people learn dancing and has produced and released over 75 DVDs from it's studio in Clearwater, FL. For media inquiries, more information on available titles, or to learn more about Shawn Trautman Instruction or Kristin Ham Dance Instruction, call 727-738-1145 or visit Dance Videos Direct.