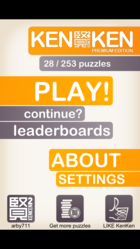 It's great.I recommend KenKen puzzles to all of my math teachers to play in the classroom
Pleasantville, NY (PRWEB) February 28, 2013
Acclaimed Japanese mathematics instructor Tetsuya Miyamoto developed KenKen in 2004 with the goal of improving his students' math and logic skills. This understandable, fun, and challenging puzzle quickly became a favorite leisure activity for millions of players worldwide.
KenKen is now available on iPhone and iPad with Android coming in March!
Also available on books, and unlimited puzzles on the KenKen website
Read these reviews from teachers and parents:
"My daughter had an F in math. I got her this app 3 weeks ago, she now as an A"
"This is perfect for my class. It starts out easy and gets more challenging as the kids continue. The students can pick it up and play for two minutes, or 10 minutes. Wonderful app!"
"More fun than sudoku, totally addicting! I'm hooked."
"It's great. I recommend KenKen puzzles to all of my math teachers to play in the classroom."
About KenKen
KenKen® logic puzzles were first invented in Japan by Tetsuya Miyamoto, promoted as "Kashikoku Naru Puzzle" or the "Makes You Smarter" puzzle, and brought to the rest of world through Nextoy, LLC. With the main goal to improve students' cognitive abilities in mind, he developed a brain stimulating exercise that would be understandable, fun and challenging for students of all levels. Today, Mr. Miyomoto's classroom vision seems to have become a reality.