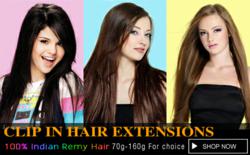 (PRWEB) February 28, 2013
Today, CCHairExtensions.com, a leading and experienced supplier of hair extensions, introduces its Micro Loop Hair Extensions 2013 collection, and launches a site-wide hair extension promotion to expand its online market share.
The new collection cover 101 new micro loop hair extensions in various styles and colors. They are available in 12 colors, and 16 to 26 inches. These hair extensions are from original Indian Remy hair to satisfy the high quality requirements. With premium quality materials, excellent workmanship, and strict quality control, these micro loop hair extensions look more natural than other products.
"The micro loop hair extensions are easy to use and a full head can be added in less than 2 hours. They tend to look more natural than the clip in ones, as the loops are hidden by the natural hair and each extension is added individually rather than in wefts," explains, Tony Austin, CEO of CCHairExtensions.com. "With our beautiful human hair extensions, there is no need to wait years for your hair to grow to achieve that stunning look you have always wanted."
CCHairExtensions.com is known for its quality unique designs and affordable prices. No matter if it's clip in hair extensions (or called "clip on hair extensions"), tape hair extensions, or other hair weave products, ladies can find their dream hair extensions quickly on the easily navigated website of CCHairExtensions.com.
The company aims to assist the ladies to choose cost-effective hair extension products prior to shopping, and is rediscovering the essence of hair extensions with its focus on beauty and grace.
Furthermore, CCHairExtensions.com has launched a site-wide hair extension promotion to show appreciation to its loyal customers, and expand its online market share as well. Everyone can enjoy an up-to-41%-off discount, before Mar. 15, 2013.
About CCHairExtensions.com
Founded in 2008, CCHairExtensions.com is dedicated to bringing customers all kinds of fashion and quality hair extensions at affordable prices. Their hair extensions come from original human hair without aciding. The company has developed as one of the leading hair resource wholesalers and retailers in the past few years.