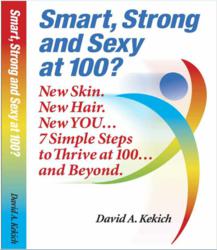 Let's be part of the first generation to stay young and conquer old age instead of the last generation to die of old age
Boulder, Colorado (PRWEB) February 28, 2013
Centagen is a biotechnology company that is developing life extension and medical therapies that utilize a patient's own adult stem cells. The company has a new technology to expand adult stem cells in vitro (in the lab) up to 1 million times, then rejuvenate them and inject the stem cells back into the person from which they came. This will help repair and rejuvenate organs and tissues damaged by aging, disease and injury. This may be the beginning of exteme life extension and true age reversal.
Each of us has a limited supply of the kind of stem cells needed to rebuild, repair, and rejuvenate any part of our body. As we age, the supply of these cells become smaller while their healing power diminishes. By providing a practically unlimited supply of one's own rejuvenated stem cells, we believe it will be possible to keep people young and healthy for over a century. There is also great hope for those with various health conditions related to aging, disease or injury to recover and live life to the fullest.
Adult stem cells can be extracted from your blood, fat, or skin and then multiplied a million fold in rejuvenating tissue culture. Our technology requires no genetic engineering of the stem cells, so the procedure is much safer than the current procedures requiring genetic tampering. Only your own adult stem cells would be used, so there are no ethical issues common with embryonic stem cell use or side effects due to tissue rejection by your immune system.
Everyone has adult stem cells that are capable of repairing nearly all tissues in the body. Unfortunately, these adult stem cells typically decline in number or function as we age and can be depleted by injuries or illnesses. The current use of adult stem cells is limited by the small number of such cells in the body and by the current difficulty of amplifying fully functional adult stem cells in cell culture. Using our proprietary technology, we can multiply the rare adult stem cells in cell culture without aging them or degrading their function. One innovation involves lengthening the telomeres while amplifying the stem cells.
It is difficult to obtain normal funding for this kind of research, as the current stem cell research is focused on embryonic stem (ES) cells or genetically induced Pluripotent Stem (iPS) cells. The potential of ES and iPS cells are very exciting, but that potential is many years away from yielding safe and affordable treatments of diseases and medical conditions. Research indicates that many of the same remarkable healing benefits can be achieved sooner and cheaper by safely utilizing your own adult stem cells.
After sufficient research and clinical work on the safety and effectiveness of rejuvenated adult stem cells is obtained, the stem cells can be utilized by hospitals and clinics for a wide range of age-related disorders and medical conditions. Adult stem cells have the potential to save billions of dollars by curing or greatly improving age related conditions that are now treated as chronic disorders needing continuous medical intervention.