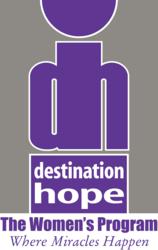 We focus our treatment program on providing alcohol rehab for women and their families, to address the increased risk for future generations or relapse."
Fort Lauderdale, Florida (PRWEB) February 28, 2013
Destination Hope: The Women's Program, a nationally recognized gender specific substance abuse treatment and alcohol rehab for women facility in Fort Lauderdale, Florida, is evaluating new evidence that genetics may play a strong role in a woman's risk for developing alcoholism or alcohol abuse problems. New research done at UPV/EHU-University of the Basque Country has for the first time associated certain genetic variants that are known links to an increased risk of alcoholism with women. Alcoholism is a disease known to run in families, but this research reveals that it may not be exclusively caused by environmental factors.
According to the National Institute on Alcohol Abuse and Alcoholism (NIAAA), research has shown that children of alcoholics are four times more likely than the general population to develop alcohol problems and are at higher risk for other behavioral health problems. This coincides with the experience of long-term counselors and therapists at Destination Hope: The Women's Program alcohol rehab for women program, where alcohol abuse problems are often seen many generations of the same family.
"Scientific evidence and research have linked genetics to alcoholism and alcohol abuse problems in men, but women are often left out of the study population. Until now we could speculate, but had no evidence that women with specific genetic variants were also at high risk," said Ben Brafman, chief executive officer and founder of Destination Hope and Destination Hope: The Women's Program. "We've suspected this for a long time, after seeing so many clients that have alcoholism running through several generations of their family. We focus our treatment program on providing alcohol rehab for women and their families, to address the increased risk for future generations or relapse."
Destination Hope: The Women's Program provides residential-style and outpatient alcohol rehab programs and treatment opportunities for women with the goal of reducing underlying genetic risks for family addiction problems. Specializing in family therapy and group therapy, the program's focus has been to address underlying risks and triggers for the addiction, not simply the addiction itself in order to give a woman and her family the best opportunity for long-term recovery.
"We believe education is key to decreasing the risk. Our alcohol rehab for women and their families is designed to educate, inform and empower the loved ones of a woman suffering from alcoholism or alcohol abuse to be able to identify their risk factors and take action," said Brafman.
Like any other health condition, addiction is affected by external forces, some of which occur in our environment, others that occur within our genetic code. According to Brafman there are several factors that may increase or decrease a person's risk for developing alcohol abuse problems, family history and genetics being just one.
###
Destination Hope: The Women's Program is a full service addiction, drug, alcohol and dual diagnosis treatment facility in Florida for women suffering from substance abuse and mental health issues. Treatment programs include: drug rehab, alcohol rehab, outpatient rehab, dual diagnosis therapy, family therapy programs, prescription drug rehab aftercare and women's health programs to treat depression, anxiety and eating disorders. Destination Hope: The Women's Program and its partner program, Destination Hope, provide gender specific therapy in an intimate treatment environment. For more information on the center or substance abuse and addiction treatment, please go to http://www.womensdrugrehab.com.