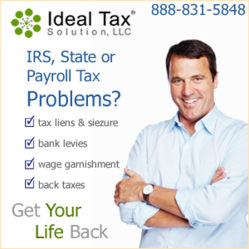 Knowing what changes the IRS is implementing is extremely important.
Costa Mesa, CA (PRWEB) February 28, 2013
Ideal Tax Solution, LLC works with individual and business taxpayers alike to provide comprehensive tax help services. IRS announcements regarding any modification to existing tax regulations is thoroughly analyzed and then prioritized as part of an inclusive approach to providing up-to-the-moment tax information. This information can prove vital in accurately assessing an individual or company's tax liability.
Nearly 1,000 employers have applied for the VCSP thus far. Businesses, tax-exempt organizations and government entities may apply. The program provides partial tax relief from federal taxes for employers who treat workers as independent contractors or non-employees, and now wish to classify them as employees. Ideal Tax Solution has advised many companies on the beneficial aspects of different worker classifications.
Employers accepted into this program will no longer be subject to a special six-year statute of limitations, rather than the usual three years which normally applies to payroll taxes. And, under the revamped program, employers under IRS audit, other than employment tax audit, can qualify for the VCSP. These and other permanent modifications to the program are described on the IRS.gov website and can be explained by contacting Ideal Tax Solution.
"Knowing what changes the IRS is implementing to the tax code is extremely important in our efforts to provide the absolute top level of tax resolution services," says Tom Rodriguez of Ideal Tax Solution. "Even small modifications can have a huge effect on an individual's or company's tax debt."
An employer must be currently treating workers as non-employees to qualify for the VCSP. That means workers in the past have been consistently treated as non-employees, including the filing of 1099 forms. Employers must also not be under audit for payroll tax issues by the IRS. Additionally, an employer cannot be under audit by the Department of Labor or a state agency. The tax-relief specialists at Ideal Tax Solution can help determine a company's eligibility status.
Interested employers can apply for the program by filing Form 8952, or by contacting Ideal Tax Solution. Applications for the VCSP should be made at least 60 days prior to the desired date for worker reclassification.
For U.S. taxpayers interested in finding out more about Ideal Tax Solution and their full range of in-depth and personalized tax preparation services, or for any tax help related issue, visit them online at http://www.idealtaxsolution.com. You can also reach them by phone by dialing 888.393.5154. Good tax tips and additional information can be found on their Facebook page and by following them on Twitter.
About Ideal Tax Solution, LLC – Located in Costa Mesa, California, the company provides a full range of tax preparation and resolution services as well as reassurance to taxpayers nationwide. With more than 55 years of combined experience providing American taxpayers with federal and state income tax solutions, Ideal Tax Solution offers an experienced staff which includes Enrolled Agents, CPAs and Senior Tax Consultants who stand at the ready to help with any tax issues.