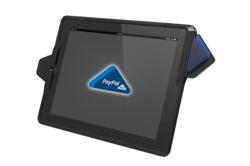 With several included attachments, the SwitchBack quickly and conveniently transforms to a credit card payment iPad kiosk.
Salt Lake City, UT (PRWEB) February 28, 2013
ArmorActive and Kensington continue to leverage their partnership with the announcement of a new secure key-locking iPad enclosure, the SwitchBack iPad POS kiosk. The strategic partnering with Kensington to develop the SwitchBack started with ArmorActive's engineering designs and a desire to simplify the iPad POS system. "We turned to Kensington's expertise in security and combined that with our knowledge of the iPad kiosk industry to create a simple all-in-one iPad POS solution" states Scott Paul, owner of ArmorActive. The SwitchBack is the second ArmorActive product to integrate Kensington's ClickSafe® key locking technology, providing the most feature-rich iPad security enclosure solution on the market.
The SwitchBack iPad enclosure is extremely versatile and accommodates a variety of business needs due to its extensive feature set. The enclosure not only protects and secures the iPad for mounting, but also converts into a sleek mobile point-of-sale terminal. With several included attachments, the SwitchBack quickly and conveniently transforms to a credit card payment iPad kiosk. The mobile credit card reader adapters easily click into place and secure the card reader (Square, PayPal Here, or ID TECH UniMag II), providing an easier card swipe transition. A variety of free mobile applications can be downloaded from Apple's iTunes Store to enable the iPad to receive transactions with these readers, which include: Square Register, PayPal, and Credit Card POS Terminal. ArmorActive and Kensington have future plans to offer a variety of additional modules for the many other mobile card readers available on the market.
As a dynamic accessory, the adjustable KickStand for the SwitchBack quickly turns the enclosure into an iPad table kiosk. The robust friction hinge and lockable quick-release spring-loaded buttons enable ease of adjusting the viewing angle and orientation of the iPad. Using the optional Kensington ClickSafe® cable tether lock, the SwitchBack can also be used as a mobile or secured solution with the turn of a key. Alternatively, when the KickStand is removed the enclosure features VESA mounting holes for mounting to any ArmorActive floor stand or table/wall mount.
In an effort to provide simplicity, ArmorActive and Kensington designed the SwitchBack enclosure to be assembled without tools. "We're excited to provide our customers with a simple all-in-one solution that can be set up in seconds," states Nick Ames, CMO of ArmorActive "which makes the SwitchBack the ideal product for our trade show customers. Furthermore, the payment adapters will meet the needs of many restaurants, churches, events, and retailers."
ArmorActive is currently pre-selling the SwitchBack with ClickSafe® lock ($119), as well as the optional KickStand ($24.99). The product is expected to hit the shelves at the end of March 2013. With the release of the SwitchBack, ArmorActive and Kensington continue to pursue their commitment to make the highest quality tablet security solutions on the market.
In summary, the SwitchBack unique features include:

Square, PayPal, and UniMag II CC reader adapters
Internal power cord routing
Power and volume button covers to enable or disable access to buttons
75mm and 100mm VESA compatible mounting
Ability to display in portrait or landscape orientation
Quick, tool-less construction
Compatible with KickStand module (sold separately)
Lockable with ClickSafe® Locks (sold separately)
About ArmorActive Inc.
ArmorActive is a global tablet security solutions company. Unique in the industry, ArmorActive provides a team of Account Managers to help customers make the best decisions at all stages of their tablet-based projects, from procurement to implementation. A wide variety of ArmorActive products are available at http://www.ipadenclosures.com
About Kensington
Kensington, a leader in smart. safe. simple.™ accessories. Kensington Computer Products Group, headquartered in Redwood Shores, California, is the technology division of ACCO Brands. For more information, visit http://www.kensington.com. Kensington and ClickSafe are registered trademarks of ACCO Brands. Covered by one or more of US Pat. No's D661,975; D660,682 S; 8,042,366; D651,889; 8,001,812; 7,997,106; 6,081,974; 6,317,936; 7,415,852.