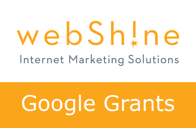 Aspen, CO (PRWEB) February 28, 2013
For nonprofits endeavoring to broaden their digital advertising, webShine is now working alongside U.S. nonprofits who have been approved by Google for the Google for Nonprofits program. webShine provides management to these 501(c)(3) organizations through monthly management of their free Google AdWords accounts at reduced rates.
Introduced in 2003, Google for Nonprofits through the Google Grants program awards nonprofit organizations with $120,000 per year to spend on ad within Google AdWords. Each month, recipient nonprofits are granted a Google AdWords budget of $10,000, which funds an advertising campaign on Google.com. Google Grants is one arm of the Google for Nonprofits program, which was created by Google in an effort to help nonprofits in their effort to engage their target audiences.
Google has outlined a handful of eligibility requirements that U.S. nonprofits must meet in order to qualify for the Google for Nonprofits award. Nonprofits must have 501(c)(3) status, and must be an organization based in the United States. Another condition for eligibility is that a nonprofit's website cannot display revenue-generating ads.
Upon submitting the Google for Nonprofits application, Google will respond within six weeks.
webShine assists nonprofits in completing the Google Grants application gratis. One approved by Google, webShine provides services to manage a nonprofit's Google AdWords account at a discounted nonprofit rate each month.
Nonprofits are permitted to create ads that are relevant to a nonprofit's services and programs, though these ads must be text-based only. Furthermore, these text ads will run solely on Google.com. Also, an outside organization can assist with the management of the Google AdWords account on behalf of the nonprofit. The Google Grants award gives nonprofits the budget to spread their mission and message in a digital environment, and webShine has the skills necessary to assist in this goal of growing a nonprofit's reach on Google.
Recipients of a Google for Nonprofits award will receive not only complimentary advertising through Google AdWords via the Google Grants program, but approved nonprofits will also have special access to premium Google products and services through YouTube for Nonprofits, Google Earth Outreach Grants, and Google Apps for Nonprofit.
Read more about Google for Nonprofits, Google Grants, and Google's eligibility requirements at http://www.google.com/nonprofits. Also, learn more about how webShine can assist nonprofits with their AdWords accounts by visiting the webShine Google Grants service page.
---
webShine specializes in creating customized search engine marketing solutions to fit each client's vision, vertical, and brand. From search engine optimization to pay per click advertising, webShine offers a wide array of services. Learn more about webShine at http://www.webshine.com.