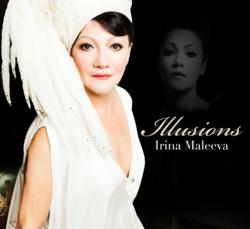 "I was emotionally and sensually involved with Irina Maleeva!" Austrian avant-garde painter Hundertwasser admitted.
Los Angeles CA (PRWEB) February 28, 2013
A veteran of film, television, musical and cabaret theater, Irina Maleeva will be right at home as she presents her one-woman musical theater show, "Illusions," on stage at the Hudson Main stage Theatre in Hollywood, Friday through Sunday, March 1-3, 2013.
And she'll make her audience feel right at home as well.
Between witty monologues and touching reminiscences of an epic life well lived, Irina's sultry voice will beautifully interpret and personalize more than half a dozen songs from her just-released CD, "Illusions."
Featured songs in the theater show include Amanda McBroom's "Crimes of the Heart" and "Portrait," Edith Piaf's "La Vie en Rose" and Yves Montand's "Autumn Leaves."
Irina has traveled the world with her critically acclaimed one-woman musical comedy shows, including "Passion, Pain and an Occasional Vodka Tonic," "Mata Hari's Last Dance" and "Irina A-Broad."
Irina was born in Bulgaria to a leading lady of the Bulgarian stage and a war hero father who led the anti-Nazi movement for his country. She first established herself as a child actor in Italy, where she studied acting, earned a degree in set design, became a painter and learned to speak seven languages fluently.
At age 15, she was discovered by Italian film director Federico Fellini, who cast her in three of his films.
She played Jessica to Orson Welles' Shylock in a BBC production of "The Merchant Of Venice" and then went on to star in more than 30 European and American movies.
Her co-stars have included such icons as James Mason, Valentina Cortese, Terence Stamp, Anthony Franciosa and Charles Grodin. She was recognized by the Toronto Film Festival for her supporting-actress portrayal of "the demented contessa" in the film "Union City," starring Deborah Harry and Pat Benatar.
Irina has appeared on the small screen too, guest starring or recurring in such TV hits as "Days Of Our Lives," "The Gilmore Girls," "The Bold And The Beautiful," "Pensacola," "Just Shoot Me," "Angel," "Heroes" and "Six Feet Under."
"I was emotionally and sensually involved with Irina Maleeva!" Austrian avant-garde painter Hundertwasser admitted. He brought Irina's face to one of his most famous paintings, calling it "Irinaland Over The Balkans." The original is in a museum in Japan.
Her new show, "Illusions" – directed by Randy Johnson (Elvis The Musical, One Night with Janis Joplin) with musical direction by Michele Brourman (The Rose) – opens at 8 p.m. Friday, March 1, at the Hudson Main stage Theater, 6539 Santa Monica Blvd., in Hollywood.
A champagne reception follows the opening night performance. "Illusions" also plays Saturday, March 2, at 8 p.m., and Sunday, March 3, at 7 p.m.
.
PRESS INTERVIEWS & PASSES email susan(at)selectservicesfilms(dot)com
or call Susan 323-833-2088
WEB: http://www.irinamaleeva.com
SHOW TICKETS & INFO
CD