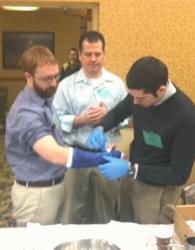 It is important that family physicians get to work together with ATs, given the important role that ATs play in managing athletes with injuries and illnesses in their return to sports.
Lake Placid, NY (PRWEB) February 28, 2013
After being invited by the New York State Academy of Family Physicians (NYSAFP) Winter Weekend Planning Committee Chair, Jason Matuszak, MD, to participate in their annual January conference, the New York State Athletic Trainers' Association (NYSATA) was eager to contribute. Dr. Matuszak, from the Excelsior Center for Sports Concussions in the Buffalo, NY area, works closely with certified athletic trainers (ATs) on a regular basis and has a keen understanding of the benefits that collaboration between family physicians and ATs can bring to their patients and overall sports health care.
"It is important that family physicians in the community get to meet and work together with athletic trainers, especially given the ever-increasing and important role that ATs play in managing athletes with injuries and illnesses in their return to sports," stated Dr. Matuszak following the conference.
The Sports Medicine session entitled Acute Musculoskeletal Injuries and Examination, was run by Scott Darling, MD, of University Sports Medicine (Buffalo, NY). Bob O'Malley, MEd, ATC, CES, athletic trainer at Williamsville South High School (through Excelsior Orthopedics in Buffalo, NY) and Rick Knizek, MS, ATC, athletic trainer at Shenendehowa High School (Clifton Park, NY), who also moderated the session, assisted with the hands-on practical portion, in which attendees were able to receive guidance while practicing various orthopedic evaluation techniques.
The session, held on Saturday, January 19, was full with a standing-room only crowd of over forty physicians and was well received by all in attendance. Following the session, there was a question-and-answer period, with many questions focusing on overuse injuries and how to manage and prevent them – all areas of expertise for certified athletic trainers. Christopher Stawitz, MS, ATC, another athletic trainer with Excelsior Orthopedics, also ran a casting workshop during the conference.
In addition to helping with the orthopedic examination session, O'Malley also managed the NYSATA exhibit booth throughout the weekend. He and Karen Ocwieja, ATC, from the US Olympic Training Center (Lake Placid, NY) distributed informational material about athletic training and concussion management and interacted with attending physicians, answering questions as they arose. The ATs also performed number of spontaneous functional shoulder evaluations on attendees as conversations developed on the connection between musculoskeletal dysfunction - poor movement mechanics - and neck and shoulder pain. After these points, along with an explanation that ATs have expertise in such areas, were reiterated by one of the presenting orthopedic physicians, even more interest in learning about athletic training was generated.
Overall, most family physicians in attendance seemed to have a comprehensive understanding about the education, skills, and proficiency of athletic trainers, but there were also many others, mostly from urban areas, that unfortunately have had little or no contact with ATs or exposure to athletic training in general.
NYSATA is pleased with the positive feedback since the conference and looks forward to a growing relationship with NYSAFP moving forward. In a follow-up conversation with Dr. Matuszak, he commented, "As planning committee chair for the New York State Academy of Family Physicians annual Winter Weekend meeting, I feel we had a good launch at this year's event to a potentially strong relationship between our organizations." He continued, "I hope this works as a springboard to future events where family physicians and athletic trainers (ATs) learn alongside one another in a multidisciplinary team and can develop a mutual advocacy relationship."
NYSATA, founded in 1976 and incorporated in 1989, stands to advance, encourage and improve the profession of athletic training (AT) by developing the common interests of its membership for the purpose of enhancing the quality of healthcare for the physically active in New York State. Comprised of over 1,200 certified and practicing athletic trainers, NYSATA is the state-wide affiliate of the regional Eastern Athletic Trainers' Association (EATA) and District Two of the National Athletic Trainers' Association (NATA).