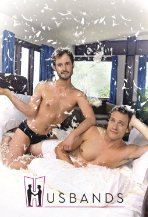 "New Media Film Festival makes the cutting edge accessible" - Huffington Post, Xaque Gruber
Los Angeles CA (PRWEB) February 28, 2013
Jon Cryer and Joss Whedon guest star in the web series "Husbands", a show about Brady and Cheeks who get drunk-married in Vegas. They barely know each other, but for the sake of marriage equality, they've stayed married.
Jon Cryer plays a Television Host named "Vic De Rey" while Joss Whedon plays Brady's agent who demands that Cheeks downplay the gay for conservative America. The success of the show has spawned a comic book series from Dark Horse Comics that has recently been released in hard cover form.
4th Annual New Media Film Festival June 11th & 12th 2013 is proud to announce an early selection of programming.
Accepting submissions through May 1, 2013 and locking programming May 15th 2013
Where: The Landmark West LA 10850 W. Pico Blvd. Los Angeles CA 90064
Why: Honoring Stories Worth Telling. The Best in New Media
How: http://www.NewMediaFIlmFestival.com
Judges: From Fox, Pixar, ILM, The Caucus and other Industry Leaders