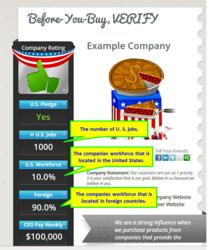 Most of these 1.4 million jobs on the chopping block are providing middle class incomes to families.
Hawthorne, CA (PRWEB) February 28, 2013
Sequestration is a fancy word for massive budget cuts which are scheduled to hit on March 1. Unless Congress acts quickly, $85 billion in across-the-board cuts will occur this year with another $1 trillion coming over the next decade according to the New York Times article, Answers to Questions on Capital's Top Topic, by Jonathan Weisman, Feb 21, 2013. These automatic federal spending cuts could result in the loss of over 1.4 million jobs in 2013, according to a study by Congress's nonpartisan Congressional Research Service (CRS) report, by Linda Levine, Specialist in Labor Economics. This news has caught the attention of college students who belong to an organization called SaveOurWorkforce which monitors the number of middle class jobs in America.
The sequester - $85 billion in across-the-board cuts - has college students concerned about their future job prospects. "Most of these 1.4 million jobs on the chopping block are providing middle class incomes to families", says Ross Mazzolini, a student at Texas Tech University. These cuts will eliminate professional positions in Defense, Education, Federal Aviation, Research, and Medicare as outlined by the CRS report. Mario Palma, a student at El Camino College explains: "On the one hand, the sequester is good as it forces spending cut-backs which helps get our national debt under control. However, on the other hand there are not many professional job opportunities available for college graduates; I am worried about finding work after graduation so I can pay back my student loans." Validating these student concerns, the Bureau of Labor Statistics reported this month that over 12 million Americans are currently unemployed.
To help the middle class, these young people created a website called SaveOurWorkforce.org to help keep jobs in America instead of sending them to foreign countries through outsourcing. Their free website tool, "Before-You-Buy, Verify", shows the number of US jobs a company provides for consumers to easily purchase products from businesses that are supporting America's middle class workforce. Their database gives each company a rating by tracking the number of jobs a company offers in the United States and foreign countries to determine a US workforce percentage.
Prior to making a purchasing decision, a consumer can compare the US workforce size of multiple companies and direct their purchase to the business that is providing the most jobs to American families. "Using this tool strongly encourages companies to keep jobs here", says Nestor Crespin, attending Loyola Marymount University. Also, students research unemployment and provide a report card on the health of the US workforce. This report card is a way for members to see the condition of the US workforce and how well they are doing.
"Together we can rebuild America's workforce and create a brighter future for us all," explains Ross. "All we need is your membership to show companies we care about how many US jobs they are providing." People who are interested in becoming members can sign up at http://SaveOurWorkforce.org.
About SaveOurWorkforce
 
SaveOurWorkforce is a nonprofit organization with the mission to save and rebuild America's workforce. Founded in 2012 by high school and college students, the organization encourages the involvement of students, individuals, and companies throughout the country at their website http://SaveOurWorkforce.org. Students (13 years and older) are asked to join and track the company workforce sizes in their area. Individuals (the 99%) are asked to become members and use the free tool "Before-You-Buy, Verify" which empowers consumers to direct their purchases to companies that support the US workforce the most. Companies are also asked to become members and partner with the youth to help keep jobs in America at http://SaveOurWorkforce.org.