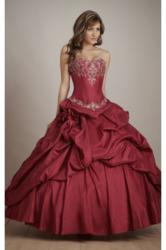 (PRWEB) February 28, 2013
DressesOnlineSales.net, a leading Australian online store for women's dresses, has recently announced that they are offering great discounts on its Cheap Wedding Dresses Australia collection. The company's strategy is to expand its client base through by continuously offering high-quality dresses at discounted prices.
The wedding dresses in this collection come in various types of vintage or sexy styles, and are available in 12 colors: yellow, blue, purple, and more. They feature these characteristics: fine tailoring, rich fabrics, and meticulous production.
"We are offering a unique collection of stunning wedding dresses with discounts, and the promotion will allow customers to get more choices at affordable prices," says Moyo Nesiama, CEO of DressesOnlineSales.net. "Our dresses will give people an elegant impression at a wedding."
Annie, a customer coming from London, commented, "I am busy every day, and I found this shop by searching cheap wedding dresses sale on Google. I was so nervous about their dresses at the beginning. But finally I knew that my dress was waiting for me there. Good quality! I really will recommend the website to my friends."
Moyo Nesiama emphasized, "We have over many years experience within the wedding dresses industry, and high quality and the most up-to-date styles are the most important factors we seek when developing new products."
DressesOnlineSales.net is a well-known Australian online store for cheap bridesmaid dresses, wedding dresses, prom dresses, evening gowns, and wedding dress accessories from China. The company is devoted to helping ladies design their own dresses without sacrificing the top-quality materials and fast delivery.