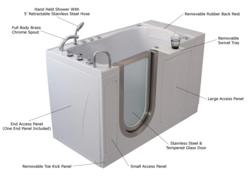 Selecting walk bathtubs and wheelchair access showers has never been easier!
New York, NY (PRWEB) February 28, 2013
Aging Safely announces their walk bathtubs eCommerce shopping cart site will now offer wheelchair access shower systems in addition to the elderly bathtub appliances. The company specializes in bathroom fall prevention products for seniors such as walk in tubs, therapeutic hydrotherapy, ADA shower stalls and safety grab bars.
Aging in place successfully and safely typically requires making modifications to entry ways, difficult to maneuver areas and the bathroom. Dangerous falls in the bathroom can happen at any age; however for the elderly entering a traditional bathtub can present a sometimes risky and dangerous environment. Whereas products like walk bathtubs and wheelchair access shower stalls can potentially prevent falls from happening in addition to providing peace of mind to the bather.
Living independently is a very important part to enjoying retirement, however sometimes simple tasks can no longer be done safely without making improvements conducive with the needs of the elderly. Walk bathtubs can provide a sense of independence and security for seniors and those suffering from any kind of mobility restriction. For customers that don't have the desire to soak in an elderly bathtub, this unique ecommerce website offers ADA compliant wheelchair access shower stalls that are specially designed with safety in mind.
In addition, these specialized handicap showers come standard with built in seats and handheld showers. These specialty wands make it easy for bathers to rinse off without standing or stretching into a dangerous position. As an option, some models have temperature regulators installed which can provide additional peace of mind and control.
According to Aging Safely, the ecommerce site will be providing shoppers with numerous wheelchair access shower systems. The company will be offering ADA showers that come in several unique sizes and shapes to help make shopping for walk bathtubs and handicap showers easy.
The bathroom is considered one of the most accident prone rooms in the home; therefore seniors that are considering options for aging in place technologies should least consider enhancing their bathroom area with a bathroom safety product. Being proactive about bathroom safety can have many benefits and the payback can be tremendous.
This specialized walk bathtubs site offers a vast amount of information regarding walk in tubs and wheelchair access showers, however visitors that require additional information can contact a representative for a no cost or obligation consultation. This can potentially help ensure the proper elderly bathtub product is selected.
Contact Information:
Tye Wennstedt
720-495-5497
info(at)walkbathtubs(dot)com