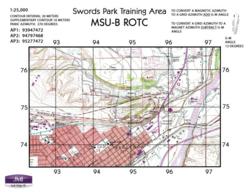 Getting ahold of DoD issued maps for a small training area can be costly and can take a while. The great alternative our Battalion found for training exercises was working with Debbie at Just Map It
Medford, Oregon (PRWEB) February 28, 2013
Today, Just Map It announces that it will now be providing their services to the United States military by crafting confidential, custom maps for the ROTC, National Guard units, and others for training purposes and more. "Getting ahold of DoD issued maps for a small training area can be costly and can take a while. The great alternative our Battalion found for training exercises was working with Debbie at Just Map It," says Cadet Cody Fryxell of Bobcat BN - Montana State University. Just Map It accommodates any custom mapping need and consistently creates both basic and detailed maps for land owners, real estate, recreation, energy and mining, and government.
Military maps are customized using the MGRS (Military Grid Reference System). Mapping styles, including topographical, aerial, or a topo overlaid on an aerial to show terrain provide numerous options to satisfy any request. Maps can be created in various formats, scales, and sizes, and for any area throughout North America.
Each custom map is designed using the latest Geographical Information Systems (GIS) data in real-world coordinates to scale. Just Map It can draw with files from a customer's GPS unit or waypoint files can be provided for use on GPS units. The finished product is printed on regular or waterproof paper or created in video or digital format. Whether Just Map It is creating a map for purpose or for show, all maps will be constructed quickly and accurately.
About Just Map It
Formed in 2010, Just Map It is not your typical digital map company. Cartographer and founder Deb Homme, combines years of practical experience creating custom maps for large high-end ranches and real estate properties with the latest in technology to deliver the exact map that solves client's unique mapping needs - quickly and with pinpoint accuracy.
With crisp clear imagery and markings, each map delivers the exact information required. Just Map It specializes in custom mapping with a focus on USGS topographic maps, BLM maps and aerial maps for farm and ranch landowners, real estate, outfitters & guides, hunters, and outdoor recreation, as well as seamless quadrangles and BLM maps to cover the specific area needed.
Whether it is property boundaries defined or custom maps required for a real estate transaction or outdoor adventure, no map is too complicated or large for Just Map It. The process is easy and turnaround is fast. Maps can be created in virtually any size and printed on a variety of media, as well as video maps and digital maps in many file formats.