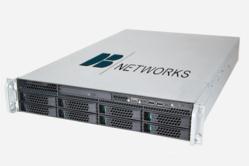 We developed the ADF-4200 to address advanced SQL injection and database denial of service threats
San Diego, CA (PRWEB) February 28, 2013
DB Networks, an innovator of database security equipment, announced today that Info Security Products Guide, the industry's leading information security research, has named the ADF-4200 Adaptive Database Firewall a Gold winner in three 2013 Global Excellence Award categories -- Database Security, Firewalls, and New Product Launch. The Global Excellence Awards recognize innovative security vendors who offer cutting edge products and solutions.
The security industry celebrated its 9th Annual 2013 Global Excellence Awards in San Francisco by honoring excellence in every facet of the industry including products, people behind the successes and best companies.
"Our ADF-4200 Adaptive Database Firewall is opening up a new era in database security and the security industry is rapidly taking notice," said Brett Helm, CEO of DB Networks. "We developed the ADF-4200 to address the advanced SQL injection and database denial of service threats. Being selected by Info Security Products Guide for three Gold medals exemplifies just how truly innovative the ADF-4200 is".
For a demonstration of DB Networks ADF-4200 Adaptive Database Firewall and the opportunity to meet with members of our team, we invite you to visit us at RSA, Moscone Center, San Francisco, Feb 25 - Mar 1, booth # 3220.
About DB Networks
DB Networks is innovating behavioral analysis based database security equipment for organizations who need to protect their data from advanced attacks. DB Networks ADF-4200 Adaptive Database Firewall is an effective countermeasure against SQL Injection and database Denial of Service attacks. Unlike traditional database security solutions, which require extensive user customization, as well as time-consuming white list/black list maintenance, DB Networks Adaptive Database Firewall automatically learns each applications proper SQL transaction behavior. Any SQL transaction which subsequently deviates from the model immediately raises an alarm as an attack. DB Networks is a privately held company headquartered in San Diego, California. For additional information, please visit us at dbnetworks.com.
About Info Security Products Guide
Info Security Products Guide sponsors leading conferences and expos worldwide and plays a vital role in keeping end-users informed of the choices they can make when it comes to protecting their digital resources. It is written expressly for those who are adamant on staying informed of security threats and the preventive measure they can take. You will discover a wealth of information in this guide including tomorrow's technology today, best deployment scenarios, people and technologies shaping info security and market research that facilitate in making the most pertinent security decisions. The Info Security Products Guide Awards recognize and honor excellence in all areas of information security. To learn more, visit http://www.infosecurityproductsguide.com and stay secured.