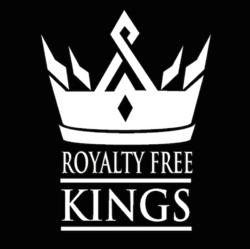 By hand picking each track, RoyaltyFreeKings.com only allows in music that meets a strict standard of musicality and production value.
Los Angeles, CA (PRWEB) February 28, 2013
Background music licensing website RoyaltyFreeKings.com is putting the final touches on several new releases, including 'Wild Wild West'; a royalty free western music album featuring sweeping orchestral film music and brooding western acoustic soundscapes, 'Moody Piano'; solo royalty free piano tracks aimed at independent dramatic films and documentaries; and 'Epic Worlds 3'; modern royalty free epic music designed for use in trailers and promos.
The addition of these new albums follows a recent new milestone for RoyaltyFreeKings.com since their launch last year: 700,000 plays through their demo player (powered by SoundCloud.com). In their first year, RoyaltyFreeKings.com has become internationally known as a source of quality background music. Traffic and sales of the library's downloadable background music have steadily increased each month as producers based all over the world, including Japan, Indonesia, The Netherlands, South Africa and New Zealand, have learned of the music licensing website, and the strict quality control that runs through the entire catalog.
As with any music update at RoyaltyFreeKings.com, along with the new tracks and albums, a selection of complimentary epic background music is also available to anyone working with a low to medium budget (US$250,000 or less per project). The music is immediately downloadable and ready to use. This free background music section has proved to be very popular with students, educators and charities around the world. The range of styles and genres in the music given away by RoyaltyFreeKings.com include: epic dramatic orchestral, ambient piano, jazz, comedy, rock and suspense tension.
The mission of RoyaltyFreeKings.com since launching in 2012 has been to make searching for background music for video production incredibly easy and streamlined. The crowd-sourcing business model (where anyone can upload music), like that used by many competing websites, has the main benefit of a rapid expansion of content. The downside is inevitable: with so many tracks being uploaded, the catalog easily gets bloated with mediocre music that has little ability to enhance a project, whether it's a commercial, wedding video, film or webisode. Producers looking through these crowd-sourcing music licensing websites have to spend significant time sifting through vast collections to find something they'd actually want to use, or worse - settle for something inferior just because they don't have the time to continue searching.
By hand picking each track, RoyaltyFreeKings.com only allows in music that meets a strict standard of musicality and production value. The website showcases production tracks from several award winning composers around the world, especially on world music albums like Around the World 1, Latin, Celtic, and Yoga Lounge.
The growing catalog of RoyaltyFreeKings.com is produced by an international group of over twenty award winning composers, including a pop rock producer in Finland, a Nashville based folk and country expert, a heavy metal specialist in Italy, a renowned acoustic guitar artist in Hawaii and several well known trailer music composers. The high quality of tracks from these composers results is a streamlined shopping experience where producers can find, purchase and download the music they need within just a few minutes.
One of the guiding principles of RoyaltyFreeKings.com is fair treatment of their content suppliers. The composers who provide the hand-picked music featured on the music licensing website are given equal share of the sales, before any discounts a customer might receive.