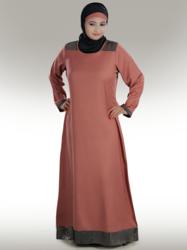 Any Size, Any Length; We Customize For YOU
(PRWEB) February 28, 2013
My Batua offers traditional Islamic clothing blended with the contemporary styles. The online store completely focuses on the quality of service and delivers clothing that suits every women and men. There are varieties of colors, textures and embroidery patterns available.
In the present era the concept of Islamic clothing has gained a new definition and so it is perfectly blended with the latest trend that gives the Islamic fashion to stand apart from the crowd. The best way to look for the Islamic fashion is the online stores where the customers can get the full range of sizes for the adults and teens. The wholesale Islamic clothing manufacturer and suppliers are offering services like customization to fulfill the desire of the customers. Abayas come with the exquisite sequin and embroidery works that attract the attention of the buyers.
In the modern world Abayas designs reflect the modern style in the right spirit. The embroidery and the lace that is found in the clothing reflect the actual taste of the modern women. Traditionally Abaya contains cotton and the woolen material, but presently they are made of light and flowing materials that range from chiffon to georgette and crepe. Silhouettes are also changing and they are now modified by split and knotted that adds charm to the clothing.
Today, as the technology is growing, the world of fashion is too gaining its significance. Abaya and Jilbabs are the popular Islamic clothing that is widely used by the Muslim women. Jilbabs are the long loose garments that cover the whole body and give an elegant look at the same time. Abaya and Jilbabs are available in numerous colors and designs and they are modernized with the western appearance. MyBatua now offers all its collection to wholesale customers.
My Batua has a complete knowledge of the ethnic fashion and the core management team takes the pride of understanding the present fashion scenario and manufactures the design and style that portrays the current trend. The company is the leading manufacturer of handbags, traditional Islamic clothing and accessories. MyBatua makes these items available at an affordable rate to the customers.