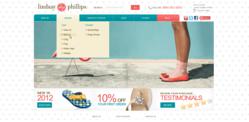 Find the perfect Lindsay Phillips shoes and then mix & match the snaps or straps for their selected shoe
London (PRWEB UK) 28 February 2013
With Spring just around the corner, Lindsay Phillips is proud to announce the re-launch of their European website, Lindsay-phillips.co.uk. The new and improved flip flop website features a larger range of interchangeable flip-flops, ballet pumps and heels than ever seen before in the UK and Europe.
The Lindsay Phillips concept is simple and evolved as a result of an art project that Lindsay undertook at school. She created a pair of ceramic flip flops that featured decorative straps. Lindsay Phillips received a fantastic response to the artwork and as a result, began designing flip-flops for her friends to wear, each featuring colourful straps and a different button. The idea soon evolved when Lindsay realised that by using Velcro, the straps on the flip-flops could be changed with ease. This lead to the creation of SwitchFlops.
In 2004 the patent for her SwitchFlops concept was granted and Lindsay Phillips started her business with her mother. It wasn't until 2007, after attending a trade show in Florida, that people fell in love with the concept and the orders began flowing in. In 2009 the Pelham Group became the exclusive UK distributors for Lindsay Phillips in the UK and Europe.
Since then, the collection has grown to include a greater selection of snap shoes and strap shoes in a vast array of colour choices. Each season, new straps and snaps are introduced, allowing for even greater customization of these comfortable and great-looking shoes.
The new-look Lindsay Phillips website allows customers to find their perfect Lindsay Phillips flip-flips, and shoes and then mix and match the snaps or straps for their selected shoe. As they say, a picture says a thousand words and on the new site, this is certainly true. Images play a large part on the website and one of the unique features allows customers to see how their selected combination will look in reality.
The highly innovative, creative and totally interchangeable fashion shoes, allow women to change their style in seconds to match their outfit. As Lindsay likes to say, "Change your look, not your sole!"
For the Pelham Group, see: pelhamgroup.co.uk