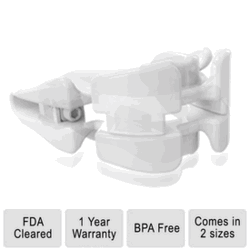 I had a similar device that worked quite well. However it was more uncomfortable and more expensive. Should have bought VitalSleep first.
(PRWEB) February 28, 2013
The go-to snore relief company, VitalSleep is offering free shipping from March 1 - March 31 2013. This promotion is offered for the anti-snore guard that has helped many satisfied customers relieve their snoring symptoms. Simply use the coupon code FREESHIP during checkout. The device works to open the airway in order to establish an easier breathing capacity while a person sleeps.
The adjustable VitalSleep anti-snore guard is made customizable through a "boil-and-bite" method that ensures that the mouthpiece fits comfortably. This snoring device is simply placed in the mouth to position the jaw in the proper position to increase the opening of the user's airway so that the sleeper can breathe easier and have a snore-free night. The sleeper can remain in their normal sleeping positions and let this mandibular advancement device provide an effective method to treat snoring. The anti-snoring guard is available in regular and small sizes so that men and women alike can benefit from the relief that the device offers. With a 30-day money back guarantee and a one year replacement—VitalSleep is going the extra mile to achieve complete customer satisfaction.
This is what consumers have to say about this snoring product:
"I have been using the VitalSleep for about a year. It has allowed be sleep get great sleep again as well as sleep with my wife which has not been possible for over 5 years. Thanks for making that possible! The device is comfortable and durable. Thanks!"
J. Lisle
Frederick, MD
"I had a similar device that worked quite well. However it was more uncomfortable and more expensive. I should have bought VitalSleep first."
W. Day
Pensacola, FL
"Out of desperation, I got onto the Internet, looking for snoring remedies. My sweet husband was kept awake by my snoring. He would go to the sofa to sleep. I looked at your product and was very skeptical, but because of the 30 day satisfaction guarantee, I thought I had nothing to lose. I ordered it on a Saturday and received it that following Monday. My husband commented to me tonight that he is getting such restful sleep now. I have had it for several weeks now, I'm happy, best of all my hubby and I can sleep together! Thank you so much!"
Irene L.
Carlise, PA
To help relieve the snoring problem in even more people, VitalSleep is offering the Anti-Snore Guard at a free shipping rate for the next month. To redeem this offer simply type in the promotional code FREESHIP during check out.
To learn more about VitalSleep or to order an anti-snore guard, visit http://www.vitalsleep.com.