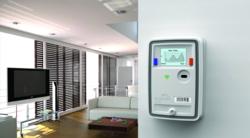 The new G6 System from ENER-G Switch2 provides a fair and easy fuel payment system for social housing residents, while cutting energy bills and energy consumption.
(PRWEB UK) 28 February 2013
The new G6 System provides a fair and easy fuel payment system for residents, while cutting energy bills and energy consumption. It has won the "Most Innovative New Product" category at the Housing Innovation Awards.
Yan Evans, Director of Sales and Marketing for ENER-G Switch2, who collected the award said: "It is the multi-functionality of the G6 that sets it apart. It offers the capability to provide a wireless data collection solution, remote and interchangeable billing and prepay options, as well as being an 'in-home display unit', which assists developers in gain additional credits towards the Code for Sustainable Homes."
The simple to use pay-as-you-go aspect of the G6 works much like topping up a mobile phone, using smart wireless technology instead of a traditional token-based pre-payment system. It supports scheme operators to manage their consumer debt exposure, with ENER-G Switch2 offering to take on consumer debt risk.
The G6 technology is being used by Kirklees Neighbourhood Housing (KNH) across more than 1,000 properties. Since its roll out began in May 2012, residents have reduced overall energy consumption by around 15%.
"The key to reducing energy consumption is being able to see what you are using," said Barry Goodwin, KNH Project Manager. "With the economy of scale of supplying heat via a district heat network, we already provide lower cost heat, but now that residents can track how much energy they are using and are taking action to reduce consumption, annual heating bills could average £5 per week."
ENER-G Switch2 remotely manages and monitors the G6 system from its customer service centre. The company has more than 30 years' experience of metering and billing within the social housing sector, including five previous generations of pre-payment devices. This included patented technology, which was adopted on license by the London underground for the old ticketing systems. The company has used this experience and expertise in the process of designing and developing the G6.
The technology is not just for use with heating consumption. Additional meters can be connected for potable water and electricity as it has 5 data inputs. G6 uses secure wireless GPRS transmission, which simplifies installation and makes the system suitable for both new builds and retrofits of any size, even at a micro scale.
The modular three-part design allows fast and simple installation by contractors and later installation of the 'smart' front unit by ENER-G Switch2 during equipment commissioning. The G6 has been designed to be future-proof, giving best value for money over the lifetime of the product. The GPRS technology means that ENER-G Switch2 can send any necessary software upgrades to the unit without the need for a service visit.
The technology avoids the need to install Mbus or other hardwired data collection systems throughout the development, which makes it ideal for schemes that are unmetered or where a fuel switch project (from electricity to gas /CHP or renewables) could be considered. ENER-G Swithch2 can provide the G6 system, as well as any supporting metering equipment, without the requirement for up-front capital investment. Effectively the equipment can be 'free-issued' with the cost recovered through a long-term service contract.
In addition to the G6 operation, ENER-G Switch2 generates approximately 20 million data transactions per year and over 12,000 energy bills per month. Approximately a third of bills come via equipment supplied by a third party. The company also provides operation and maintenance services to more than 50,000 dwellings across over 400 district and communal energy systems in the UK.
Further information: http://www.energ.co.uk/switch2