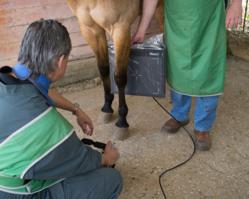 "Vidisco's user friendly BlazeX Pro DR system allows us to achieve highly accurate results thus making the assessment process thorough and efficient."
(PRWEB) February 28, 2013
Vidisco's cutting-edge portable DR (digital radiography) systems have earned a global reputation for trustworthiness and dependability. After years of providing top quality X-ray systems for the Security and NDT fields worldwide, Vidisco launches a new product line which is designed especially for Equine Veterinary proposes.
As Equine Veterinary is dependent on extremely accurate and quick examinations of animals, Vidisco's X-ray systems are highly suitable for this field. The portable systems are easily set up at any location and deliver high quality images upon request, thus facilitating an accurate examination of the animal.
Using the BlazeX Pro DR system, veterinarians specializing in equine buying assessments can enjoy high quality results instantly, expediting the pre-purchasing inspection. Digital radiography also facilitates X-ray images for fast on the spot diagnosis and animal treatment as well as complex animal surgery.
Whether operating in hospital or field conditions, veterinarians can easily generate extraordinary images featuring 14 bit dynamic range (16,384 Grey Levels) and 3.97 lp/mm high resolution. The BlazeX Pro system's large imaging area enables easy capture of the relevant area of interest. Lightweight and compact, the entire system can easily be carried in a single case or backpack to the inspection destination.
Amos Frishling (DVM), an expert equine veterinarian demonstrates: "Vidisco's user friendly BlazeX Pro DR system allows us to achieve highly accurate results thus making the assessment process thorough and efficient."
For more information please visit our website: http://www.vidisco.com.