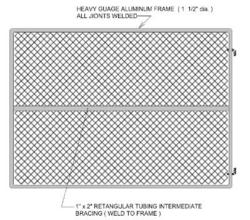 we decided it was time we addressed this need
Odessa, FL (PRWEB) February 28, 2013
Chain link gates are one of the most widely used styles of gates used in the US. Anchor Fence, a US company established in 1898, holds the first patent for chain link fencing. Over the last century it has been used both commercially and residential. Although a popular choice for consumers, gate automation professionals find it is not the ideal choice for installing and maintaining a properly functioning gate opener.
Gate openers require gates to be level, remain level, and swing freely. Chain link gates tend to sag and are mounted using standard chain link hinge pins. GateCrafters.com has been building driveway gates for over a decade, all of which are touted as automation ready. To be automation ready the gate fabrication company addresses the needs described above as well as adding a convenient location for gate opener attachment.
Lucas Carlaw, gate manufacturing manager at GateCrafters.com, recounts, "We applied the same principles from our regular decorative gates to the chain link gate frames. The need for this automation ready frame really came from our gate opener sales division. On a daily basis they work with customers with chain link gates that for various reasons will be very difficult to automate. And the customers have no solutions available at the fencing supply stores or big box stores. So we decided it was time we addressed this need."
The sag issues are addressed by utilizing 6061-T6 aluminum, which is aircraft grade aluminum. Ball bearing hinges are utilized to provide a smooth swing required to operate properly under the stresses of gate opener movements. The gate frames are now available on the website and are built in Odessa, Florida per order. The customers will add chain link purchased locally to the frames after mounting the frame.
To learn more about the Gate Crafters chain link gate frames please contact Lucas Carlaw at 1-800-537-4283 or visit http://www.gatecrafters.com.
GateCrafters.com is a division of Web Direct Brands, Inc.
Web Direct Brands, Inc. has been providing a unique retail experience over the internet for over 10 years. Specializing in products that are hard to find or require assistance to choose or install Web Direct Brands, Inc brings to those industries a team of highly trained support representatives backed by information rich web content.