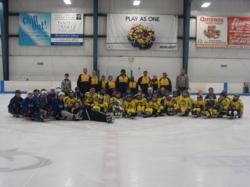 Oak Brook, IL (PRWEB) February 28, 2013
Throughout the month of March, Midwest-based Athletico Physical Therapy will celebrate the work of athletic trainers and support National Athletic Training Month with the following education and fundraising initiatives.
Student-Athlete Education
Athletic trainers (ATs) are healthcare professionals who specialize in the prevention, evaluation, immediate care, and rehabilitation of injuries. Athletico staffs over 170 athletic trainers in 80 high schools and colleges throughout Illinois, Wisconsin, and Indiana. Athletico ATs will educate student-athletes and staff on the roles and responsibilities of ATs, as well as the ways in which "Every Body Needs an Athletic Trainer," the National Athletic Training Month message.
Facebook Photo Campaign
Athletico will spread the "Every Body Needs an Athletic Trainer" message through unique photos submitted by its ATs of different groups of people (professional athletes, student athletes, staff, etc.) holding the National Athletic Training Month banner. The public will get a chance to vote on Facebook for the best photo among the top 10 photos selected by Athletico's AT management team. Visit the Athletico Facebook page at http://www.facebook.com/athleticopt.
Chicago Hornets Sled Hockey Team Fundraising Events
This will be Athletico's sixth year fundraising for the Chicago Hornets Sled Hockey Team, a sled hockey team for youth 20 years and younger with a physical disability who wish to play hockey. The Hornets' mission is to provide kids with physical disabilities the opportunity, at no cost, to learn and enjoy the game of hockey. Over the past five years Athletico's athletic trainers have raised nearly $30,000 for the Hornets. Proceeds for the following events will go to the Chicago Hornets Sled Hockey Team, part of the Amateur Hockey Association of Illinois, a 501-c3 organization.

Charity sled hockey game featuring Athletico's athletic trainers competing against the Hornets Sled Hockey Team. The charity sled hockey event is open to the public. Following the game, fans are invited to stay and watch the Chicago Steel play Team USA.
Saturday, March 30, 2013 - 4:50 p.m. to 6:20 p.m.
The Edge Ice Arena
735 Jefferson Street in Bensenville, Illinois

Employee Jeans Day Fundraiser
Prize Raffle to win such items as an iPad Mini, Chicago Bulls tickets, and a signed Chicago Blackhawks hockey stick
City Proclamations
Athletico ATs will be working with town and city officials to help recognize the profession of athletic training in our local communities with proclamations in honor of National Athletic Training Month.
For further information on Athletico's National Athletic Training Month initiatives or to profile one of Athletico's certified athletic trainers, please contact Carol Czaplicki at 630.575.6220 or cczaplicki(at)athletico(dot)com.
ABOUT ATHLETICO
Athletico Physical Therapy provides orthopedic rehabilitation services to communities and organizations throughout Illinois, Wisconsin, and Indiana. To demonstrate our commitment to both our patients and referring physicians, we measure functional patient outcomes and patient satisfaction with national data comparison using a third-party outcomes system.
Our services include physical and occupational/hand therapy, work rehabilitation, performing arts rehabilitation, women's health therapy, pediatric physical therapy, vestibular rehabilitation, and athletic training. Expanded services include performance enhancement, fitness center memberships, golf fitness, endurance, nutrition, and massage therapy.
Athletico accepts all major insurance carriers and participates with many local provider networks. As a courtesy to our patients, we verify insurance and communicate a quote of therapy benefits from your insurance carrier. Please contact our Billing Center at 630-575-6250 if you have any questions.
Athletico Toll-Free Injury Hotline 877-ATHLETICO (1-877-284-5384)
http://www.athletico.com