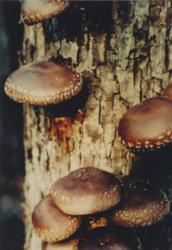 Consumers are paying the same amount for sawdust-grown as for log-grown shiitakes, sometimes more, because they don't know the difference.
Perkins, OK (PRWEB) February 28, 2013
Most shiitake mushrooms available in the grocery store are grown on sterilized sawdust blocks, according to Sandra Williams, The Mushroom Lady, and owner of Lost Creek Mushroom Farm. "All shiitakes are good," she explained, "but log-grown shiitakes are denser, have more protoplasm, and they have a deep flavor and meaty texture. In Japan, where people know the difference, log-grown shiitakes can sell for more than ten times the price of sawdust-grown mushrooms."
Sandra and her husband Doug should know. They have been growing shiitakes, teaching about shiitakes, and selling shiitake log kits for over 20 years.
"We've seen a tremendous upsurge in shiitake sales across the country," she said, "where we used to see farms with 3,000-4,000 logs, now we're talking to growers with more than 100,000 logs and even they are having trouble keeping up with the demand."
"Consumers are paying the same amount for sawdust-grown as for log-grown shiitakes, sometimes more, because they don't know the difference. If you buy a 3.5 oz container of shiitakes for $4, you're paying over $18 a pound. Log-grown shiitakes sell for about $8-12 a pound at farmer's markets. If you grow your own shiitakes on actual hardwood logs, as they grow in Nature, the cost comes way down over the 3-5 year life of the log."
"We carry Janet Bratkovich's Shiitake Sampler Cookbook with 51 kitchen-tested shiitake recipes. We've enjoyed her dips, salads, and entrees for many years. Her soups are just the ticket for dispelling the chill of winter weather." The cookbook sells for $9.95, $7.95 when included with a log kit. "The Creamy Shiitake Soup is a family favorite," the Mushroom Lady said.
Creamy Shiitake Soup (Serves 4)
6 TBSP butter
½ lb. shiitake, quartered if large
1 medium onion, finely chopped
2 TBSP all-purpose flour
1 tsp salt
¼ tsp dried thyme leaves
2 tsp catsup
3 cups chicken broth
1 cup half and half or whole cream
1 egg
1 TBSP lemon juice
2 TBSP dry sherry
Sauté the shiitake in heated butter in a 3-4 quart saucepan until lightly browned. Remove and reserve about 1/3 of the mushrooms. To the shiitakes in the pan, add onion. Cook until limp and golden. Mix in flour, cooking until bubbly. Add salt, thyme, and catsup. Remove from heat. Gradually mix in the broth. Cook, stirring, until the soup boils gently. Reduce heat. Cover and simmer 15 minutes. In a blender, whirl soup, half at a time, until it reaches the desired consistency. Return the soup to the saucepan. Stir in half-and-half or whole cream. Heat until soup steams.
Beat egg with lemon juice in a small bowl. Stir in a small amount of the hot soup. Pour this egg mixture into the remaining soup.
Mix in reserved shiitake. Cook, stirring, until very hot (do not boil). Stir in the sherry and serve.
Lost Creek Mushroom Farm sells shiitake log kits ranging from 6-inch 'Shroomies to 14-inch log kits with their own soaking trays. Logs are grown indoors like plants. In spring and fall they can grow outside under shade.
According to Sandra, "At first they yield only a few mushrooms, and as they mature, the log can be covered top-to-bottom with shiitakes."
Logs require regular soaking in non-chlorinated water, and will produce a crop about every 2 months for 3-5 years. "Shocking" the log in ice water mimics the spring and fall rainy seasons and triggers the mushroom growing cycle.
Kits include ready-to-fruit logs, instructions, and recipes. Logs 9-10 inches in length and over are fully guaranteed to grow shiitakes. Kits with two logs, including the Ma & Pa Kit with two 9-10-inch logs and the Best Buy, two 14-inch tray kits shipped to the same address, will provide mushrooms every month by alternating the producing log. Prices range from $18 for a 'Shroomie, to $30 for a 10-inch Single Log, $45.95 for a tray kit, $49.95 for the Ma & Pa Kit, and $80 for the Best Buy. Prices include shipping and handling.
Lost Creek Mushroom Farm contributes a portion of sales to The Voice of the Mushroom Foundation and Mushrooms in Ghana Project, helping mushroom farmers to improve production and promoting mushroom education and consumption worldwide.
Lost Creek Mushroom Farm kits and products are available at http://www.shiitakemushroomlog.com and on Amazon.com at slightly higher prices. Free brochures are available through the phone order line, 800-792-0053.