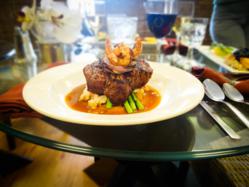 "We've made some tremendous changes at our Greenside Grill. Chef Sanford makes some of the best dishes I've ever seen. The entire atmosphere is something none of our members have seen before at Ocean Canyon. It's a definite must-see."
Texarkana, Texas (PRWEB) February 28, 2013
Ocean Canyon Properties (OCP), a privately owned membership camping resort company, is excited to announce the grand opening of the brand new restaurant, The Greenside Grill. The restaurant is located at its beautiful Millwood Landing Golf and RV Resort in Ashdown, Arkansas.
The restaurant is the creation of Chef Brad Sanford, who graduated from Texarkana College's Culinary School in 2011. After graduating, he worked as a chef at Texarkana College. Chef Sanford utilizes French cooking methods as well as modernist molecular gastronomy in his technique at the Greenside Grill. Once a restaurant with standard bar fare food, the Greenside Grill now has a menu full of new delicious dishes that you will be sure to enjoy. Dishes served include, grilled shrimp marinated in ginger and soy, grilled Salmon steak, boneless stuffed pork chops, and hand cut ribeyes. Daily specials are offered at the restaurant as well. The restaurant has been completely transformed into an elegant dining room, complete with new furniture and color scheme that is contemporary and pleasing to the eye.
"We've made some tremendous changes at our Greenside Grill. Chef Sanford makes some of the best dishes I've ever seen. The entire atmosphere is something none of our members have seen before at Ocean Canyon. It's a definite must-see," said Mike Beckelhymer, Vice President of Operations.
The Greenside Grill hosts dinners for holidays and special events as well. The restaurant offered up dishes for Valentine's day, such as shrimp cocktail, filet mignon, and cheesecake with blackberry sauce along with a champagne toast. The restaurant also participated in the 2013 Bridal Fair in Texarkana where Chef Sanford showcased two different appetizers: chocolate covered strawberries and a salmon mousse on cucumber rounds with dill and capers. Complete packages for weddings and events are available.
Millwood Landing Golf and RV Resort is Ocean Canyon Properties' flagship resort in Arkansas. Located near Millwood Lake in Ashdown, Arkansas, the resort includes a beautiful 18-hole golf course and pro shop. It is one of eight resorts in the Ocean Canyon private membership resort system, which also includes Bear's Den Resort in Grove, OK; Tres Rios Resort in Glen Rose, TX; Styx River Resort in Robertsdale, AL, Abita Springs Resort in Abita Springs, LA; North Shore Resort in Greensboro, GA; Mountain Lakes Resort in Langston, AL and Texoma Shores Resort in Madill, OK.
About Ocean Canyon Properties
Ocean Canyon Properties is a growing system of privately owned, membership resorts that offer spacious RV campsites, comfortable vacation cabins, cottages and condos along with a wide variety of private resort amenities. With beautiful resort locations situated throughout the southern United States, OCP resorts provide the safe, secure and enjoyable recreational experience that so many families seek.
The Ocean Canyon Properties senior management has been directly involved in the membership camping resort industry on a national platform for over 30 years. This experience, combined with the rigorous standards of operation at both the resort and corporate levels ensure that the company operates securely, responsibly and continually provides the highest levels of service to its members, their guests and employees. Ocean Canyon is active in supporting community organizations that help children and families in the Southeast. You can find out more at their website at http://www.oceancanyon.com