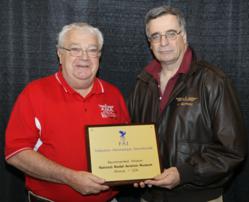 Muncie, IN (PRWEB) February 28, 2013
The Academy of Model Aeronautics' National Model Aviation Museum has been approved as a Fédération Aéronautique Internationale Recommended Museum at the recent 106th FAI General Conference in Antalya, Turkey. The National Model Aviation Museum is one of three museums that have been recognized by the FAI in the United States.
The FAI Recommended Museum Program exists to recognize worthy and notable museum collections of an aeronautical nature, which are used to further the education of the public— particularly children— in the history and practice of air sports, aeronautics and astronautics, and/or commercial or military aviation. Museums are nominated by FAI Member National Air Sport Control organizations.
Located at the International Aeromodeling Center in Muncie Indiana, the National Model Aviation Museum is the world's largest museum of its kind. The museum is dedicated to collecting and preserving significant pieces of aeromodeling history in order to inspire a broad and passionate understanding of the historic, scientific, technical, and artistic legacy of model aviation, creating learning opportunities that stimulate the imagination, and encourage visitors to become actively involved in aeromodeling.
For more information, contact Development Communications Coordinator Mandee Mikulski, (765) 287-1256, ext. 277, or mandeem(at)modelaircraft(dot)org.