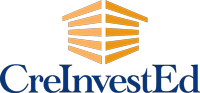 We offer online education and real estate coaching that teaches investors how to play the investing game differently.
Wakefield, Massachusetts (PRWEB) February 28, 2013
CreInvestEd, the nation's leading trainer on how to invest in commercial real estate, teaches commercial real estate investors how to play the game differently, create reliable valuations, and master the numbers with its online course "Start with Finding the Deal" and real estate coaching program.
CreInvestEd's site, founded by Jeremy Cyrier, CCIM, well-known author, senior CCIM instructor, investor, and brokerage company owner, who has trained some of the country's top real estate professionals from Walmart, McDonald's, Walgreens, CVS, CBRE, and even the U.S. State Department in cities across the United States, is a resource for commercial real estate investors seeking education, information, insider tips, access to online investing courses, and real estate coaching.
One recent graduate of the program, Jesse Andrews, talked about the online course being "fool proof" and "top notch" stating, "I've really done a bunch of research in the past, read a TON of books on the subject, listened to hundreds of hours of podcasts and audio books, and spent significant time an money on courses, and I honestly have to say that the information that you teach really is top notch."
Another recent graduate, Bill Merritt of S&S Property Management said, "Your course has helped me analyze potential investments and make sure I have the numbers covered to make a good presentation. Although I have a basic knowledge of cash on cash, cap rates, etc., I find your explanations easy to understand and now have material to refer to when my memory needs a jog. I'm a big fan of the financial analyzer tool! So much better than my HP financial calculator!"
Sal Di Stefano, President of Maine Rental Solutions, has complained that after spending thousands of dollars on seminars and numerous coaching programs, "The CreInvestEd program actually gives you the tools you need to make deals happen. Jeremy Cyrier has personally coached me on several commercial property purchases over the past 8 years."
For additional information on CreInvestEd's new 10 module online course or real estate coaching program, contact Jeremy Cyrier, CCIM or visit http://www.commercialrealestateinvestingeducation.com.
About CreInvestEd
CreInvestEd, the nation's leading trainer on how to invest in commercial real estate, provides free investing tips, real estate coaching and has recently released its latest 10 module online course course entitled "Start with Finding the Deal: How to Build a Steady Flow of Investment Opportunities Fast."