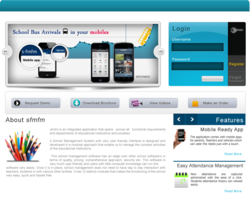 (PRWEB) February 28, 2013
'sfmfmTM' is a comprehensive school management solution, provides complete view of students' academic performance, syllabus, time-table, fees status, examination schedule, results, school calendar, and events on mobile. It effectively brings the education stakeholders (management, administration, parents, teachers and students) together on a common interactive platform thereby building a solid school community.
sfmfmTM has – one Admin Console and three modules- Parent, Teacher and School bus Application module.
Admin console enables web-based monitoring and management of daily school operations by school administrator. It provides access to various modules such as dashboard, attendance, transportation, academics, event management, teachers, fee management etc. School administrators can post time table, syllabus, examination schedules, results, events and holidays through a web-based portal. They can access attendance reports (class wise, section wise, subject wise), fees details of all students, teachers' leave applications. Transportation feature enables to track the movement of school buses in a real time. It helps to optimize routes and sends automatic alerts in case of flat tyre, out of fuel, accident etc.
Teachers, parents and management can get latest updates on school activities by using mobile uploaded with sfmfmTM application.
Teachers can directly get in touch with the parents to update about the students' progress. They can post their leave requests directly to school authorities. They can also track the buses allocated to them and get alerts on arrival time for pickup and drop. They can see details of daily time table and weekly syllabus.
Parent can easily access all information about their kid's performance on a daily basis in just one click. They can see attendance reports, results, holidays' list etc. They can make fee payments and can interact with school authorities. sfmfmTM sends automatic alerts to parents about pending fees, examination schedules, results, student's absence, events etc. The application provides an option to parents for real time tracking of the school bus in which their children is travelling and hence they can manage their time accordingly. Automatic alerts on estimated time of arrival of the bus to the parents will be given in every 10 seconds.
sfmfmTM automates all key functions of a school and can be customized to meet all key requirements of school management. The product will enhance academic performance and enhanced safety and security of students.
About Newt Global Consulting, LLC
Newt Global Consulting is a MBE/WBE/HUB Certified Global IT services company headquartered in Irving, Texas and is a Tier-1 vendor to multiple Fortune-50 clients. They specialize in a range of IT services on a broad range of technologies, mobile development, QA, and program management. Newt Global leadership is committed to staying at the forefront of technology, and has invested in building a mobile development/testing framework and has recurring training programs in both iOS and Android. Learn more at http://www.newtglobal.com