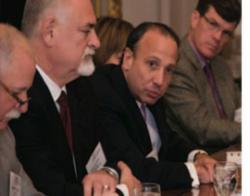 " There are thousands of mid-market M&A deals taking place right now" stated conference co-chair Wayne Cooper
Greenwich, CT (PRWEB) February 28, 2013
All the fundamentals for a robust deal market are in place, with low interest rates, eager banks and over $1 trillion in cash on corporate balance sheets. According to a January 2013 survey by PwC, 42% of U.S. CEOs plan to complete a domestic deal this year – up significantly from the 30% who said they completed a deal in 2012.
"Mid-Market M&A market is very active now. Beyond the mega-deals like the Berkshire Hathaway acquisition of H.J. Heinz and the Office Depot/Office Max merger, there are thousands of mid-market deals taking place right now," stated conference co-chairman Wayne Cooper from Chief Executive Magazine.
Whether you are an active buyer, a possible seller or simply need to keep up on the competition and the state of M&A, the 2013 CEO Dealmakers Summit is the place to connect with peer CEOs and other top dealmakers. Middle market CEOs and capital investors (private equity partners and lenders) are invited to attend this event June 13-14 in Chicago.
The CEO Dealmakers Summit will provide unique insights into the trends, tactics and tools being used by innovative dealmakers that you can adopt to grow shareholder value or gain liquidity via mergers, acquisitions, strategic joint ventures, recapitalizations and other advanced financing techniques. The focus will be on best practices that you can use to take advantage of today's unique environment.
For more information or to register, visit: http://ceodealmakers.com
This is a "must" attend event if you are considering:
-Raising growth capital (debt or equity)
-Restructuring your balance sheet to take advantage of lower cost capital
-Acquiring other businesses
-Selling off a business unit or your company
-Partnering with a competitor and/or forming a joint venture
About Chief Executive Group
Chief Executive Group is dedicated to enhancing the effectiveness of CEOs and the companies they lead. The company publishes Chief Executive magazine, the leading magazine dedicated to CEOs, and produces http://www.ChiefExecutive.net, events, research and other resources for CEOs. The company also manages the Chief Executive Network, the leading membership organization for mid-market CEOs who are committed to continuous personal improvement.
For more information, visit: http://ceodealmakers.com or contact Wayne Cooper at 203-930-2702