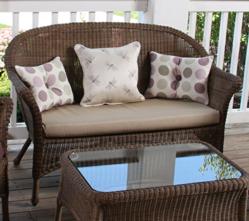 Dealing with Annie's Wicker has been a pleasant online shopping experience. Real people who respond to your emails and telephone calls promptly; go out of their way to please you.. Something not found from a lot of online companies.
Pemberton, NJ (PRWEB) February 28, 2013
Annie's Wicker, a wicker furniture retailer with over 35 years of experience in wicker is now online and still bringing their extensive knowledge, as well as the finest of outdoor resin wicker and indoor wicker products. Now, they are bringing it to customers all over the globe with the help of the World Wide Web. The main focus of Annie's Wicker is the quality of their products, which separate them from the big box stores and the sub-par quality products sold in such stores.
Annie's Wicker carries only the finest quality wicker products from leading manufacturers such as North Cape International and Chasco Designs. Their many years working with wicker and resin wicker furniture products has taught them about the differences in resin wicker furniture on the market, and they have chosen to only bring the best to their customers. It is important to note that all furniture purchased through Annie's Wicker is backed by a three-year manufacturer's warranty. All resin wicker furniture is built on either an aluminum or powder-coated steel frame, which in itself, gives customers a certain guarantee of quality. The informed consumer should be aware that most outdoor resin wicker furniture sold at big box stores is built on either a rattan frame, a cheapened and weakened aluminum frame, or a steel frame that is not powder-coated. A rattan frame can easily absorb water and therefore become weakened over shortened amounts of time, which will then shorten the life of the outdoor furniture. It is also important to note that, while most of the time customers who purchase their furniture at big box stores have found that their resin will fade after just a season or two, the resin offered by Annie's Wicker will not fade, which is an important feature that many customers have come to expect from the high-end quality furniture offered. The products from Annie's Wicker are not the furniture that consumers will purchase at Memorial Day or Fourth of July, only to have to put it out at the curb with the trash right after Labor Day. The products from Annie's Wicker are the products families will use as a centerpiece for celebrating all of their outdoor parties, a backdrop to the lazy days of summer and the nights around the fire pits that they never want to forget.
While shopping at Annie's Wicker versus a big box store, the knowledge of the staff of Annie's Wicker is immediately apparent. These people not only know their product, but they have used it in their own lives. Their knowledge is so extensive that it almost seems as though they have studied every aspect of every line that they carry. One conversation with their sales people leaves shoppers counting the days until their order arrives. Shoppers unsure of which outdoor wicker resin furniture will most fit their lifestyle, uncertain of the color furniture to choose, or which of the over 300 styles of cushions will work best, need not worry. The sales staff at Annie's Wicker is exceptionally patient and actually wants to help their customers in any way that they can. Their emphasis is always on doing whatever they can to ensure that their customers are as happy as can be with their purchases.
It is evident that the staff at Annie's Wicker is one of the most customer oriented around, so much more so than at any big box store. They truly care that their customers are happy with their purchases and will patiently work with said customers in order to bring them a stress-free and enjoyable shopping experience, from the first time their customers visit their site, to the always available customer service, to the end result of bringing them the best quality outdoor resin wicker furniture that is currently available in any market.
Shoppers looking for the best customer service that is matched with the best possible quality need to look no further than Annie's Wicker.
About Annie's Wicker, LLC:
Annie's Wicker Furniture and Accessories is an online discount wicker furniture dealer specializing in outdoor wicker all weather resin furniture and indoor natural wicker furniture.
For more information about Annie's Wicker, or to start shopping with on the new website, visit Annie's Wicker Furniture and Accessories.