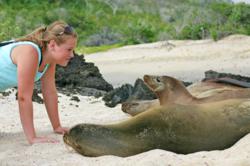 What I love most about our Galapagos family cruise is that there are no distractions — other than the wildlife — to keep families from catching up on each other's lives.
HELENA, Ala. (PRWEB) February 28, 2013
Adventurous families can reconnect with nature and each other while taking advantage of 50 percent savings on International Expeditions' Galapagos family cruise departing July 26, 2013. While traveling aboard the 32-guest yacht Evolution, a Family Director ensures kids are engaged in a full program of activities that inspire curiosity in young people of all ages.
From hiking dormant volcanoes to swimming and snorkeling alongside sea lions, children of all ages will love IE's intimate journey to the legendary Galapagos Islands. Additional kid-friendly activities include navigating with the ship's captain, stargazing, scavenger hunts, nature walks and hikes, kayaking, movie night with popcorn, and a barbecue picnic lunch in the highlands.
In addition to special savings for travelers under 18, families on this 10-day adventure enjoy rare opportunities to "unplug" in the wilds of South America.
"It's rare to be able to enjoy true quality time with family and friends," said Van Perry, IE President. "What I love most about our Galapagos family cruise is that there are no distractions — other than the wildlife — to keep families from catching up on each other's lives. And that's not something you can find at a theme park."
This immersive expedition navigates to seven islands, where the small group size allows for easy access to the wildlife and far more personal attention than guests find aboard larger cruise ships. Onboard, guests sail in comfort with spacious accommodations, fine cuisine and a host of amenities including an observation deck (perfect for whale watching) and canopied bar, plus complimentary snorkeling equipment, wetsuits and kayaks.
Other cruise highlights include visiting the volcanically active island of Fernandina to search for flightless cormorants and the largest marine iguanas. International Expeditions travelers also stop at the Charles Darwin Research Center, famous for its tortoise breeding programs, and explore Santiago Island, a haven for finches, doves and Galapagos hawks.
Two naturalist guides enhance travelers' experiences by sharing their in-depth knowledge and bringing guests within inches of giant tortoises, blue-footed boobies, sea lions, penguins and other animals.
Pricing for the 10-day July 26 departure starts at $2,549 for children 7-18 (reflects discount) and $5,098 for adults. Price includes seven nights' cruise; daily naturalist-guided excursions, including hiking, swimming and snorkeling; snorkeling equipment; two nights' pre- and post-cruise lodging at Hotel Oro Verde; most meals; all bottled water; transfers and guides. Children's pricing is based on child sharing cabin with an adult.
For information or a Galapagos Islands cruise brochure, contact International Expeditions at 1-800-633-4734 or http://www.IEtravel.com.
Celebrating 33 years of engaging nature travel, International Expeditions specializes in small-group journeys to Earth's most exhilarating destinations. A pioneer of environmentally responsible travel, IE is committed to preserving natural habitats and improving the welfare of the people and communities it visits.