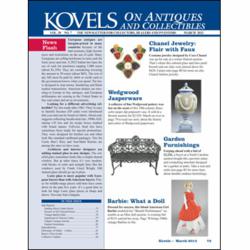 Cleveland, OH (PRWEB) February 28, 2013
The March 2013 "Kovels on Antiques and Collectibles" newsletter is now available in print and online.
Vintage Barbie dolls come to life in a "Kovels on Antiques and Collectibles" sale report—part of the just-published March 2013 issue. More than two dozen early Barbie dolls in different ensembles sold at an Ohio auction, where prices ranged from $90 to over $500. Costume jewelry designed by Coco Chanel auctioned recently in Detroit. See pictures and prices of earrings, necklaces and pins, some decorated with Chanel's "CC" logo. Then look ahead to spring and outdoor living as Kovels' March issue reports on garden furniture sets and accent pieces that sold at a winter auction in North Carolina. Sets of iron furniture that included settees or love seats, chairs and tables sold for $472 to just over $2,000. Cast iron and cast concrete figures and urns were also included in the sale. Descriptions and selling prices can be found in Kovels' March newsletter.
High quality silver continues to attract buyers and several silver centerpiece bowls by American and British silver companies that sold recently in North Carolina are also featured. And learn about the history and lesser-known colors of Wedgwood jasperware that excited bidders at a winter auction in Boston. Kovels' March newsletter also has an illustrated review of record prices set during 2012. Some highlights—a Babe Ruth game-worn jersey that sold for $4,400,000, a Batman No. 1 comic book that sold for $850,000, and a toy paddlewheel boat with a clockwork mechanism that sold for $247,000.
Regular monthly features are here, too—March's Dictionary of Marks lists marks on cutlery and knives, the popular illustrated Collector's Gallery has answers to readers' questions about an old Abendroth stove, a set of musician figurines made of "Syroco," a commemorative cigarette lighter with an image of Queen Victoria and a ceramic owl tobacco jar, and the Buyer's Price Guide lists current prices of dozens of antiques and collectibles.
With its mixture of expert advice and reports on what's hot in the market, Kovels' newsletter has something to offer for both beginning and experienced collectors. "Kovels on Antiques and Collectibles" is available as a print subscription or as a digital downloadable version that is part of the Kovels.com Premium subscription.
Terry Kovel, well-known columnist and author, gives information and advice on collecting. She will discuss antiques and collectibles topics with accredited media. Photographs are available. Contact pr(at)kovels(dot)com.
About Kovels.com
The online website, Kovels.com, created by Terry Kovel and Kim Kovel, provides collectors and researchers with up-to-date and accurate information on antiques and collectibles. Kovels' Antiques was founded in 1953 by Terry Kovel and her late husband, Ralph. Since then, Kovels' Antiques has continually published some of America's most popular books and articles about antiques, including the best-selling "Kovels' Antiques and Collectibles Price Guide," now in its 45th edition. The Kovels' website, online since 1998, and free weekly email, "Kovels Komments," give readers a bird's-eye view of the market through up-to-date news, auction reports, an online Price Guide, a Marks Dictionary, readers' questions with Kovels' answers and much more.
Contact Information:
Liz Lillis
216.752.2252
Pr(at)kovels(dot)com