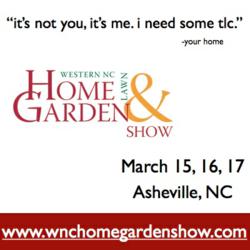 Local & regional Sponsors make it possible to give you an at home guide to Western North Carolina 2013 home improvement resources.
Asheville, NC (PRWEB) February 28, 2013
The WNC Home Lawn & Garden Show in Asheville, NC announces local and regional partners. Sponsors of the show include: Asheville Savings Bank, 1350 WZGM, Asheville Citizen-Times, Clear Channel Radio of Asheville, Prestige Subaru, HomeSource Design Center and the Western North Carolina Green Building Council.
Asheville Savings Bank has been a premier sponsor of the show for many years, and the host of the "Industry Professionals Preview Night", Thursday March 14, 2013. This invitation-only event is for industry professionals, such as realtors, architects, builders, and interior designers. For more information about the event, email rsvp(at)wnchomegardenshow(dot)com.
Clear Channel of Asheville will be live at the show, with Kiss Country 99.9 FM Radio Host on Friday, March 15th from 4-7pm talking about all the things to do and see at this year's home show. Matt & Agnes from "Take a Stand" on Asheville Independent Radio WZGM AM1350 will have a booth at the show interacting with attendees for the duration of the show.
Prestige Subaru, Asheville Citizen-Times and the Western North Carolina Green Building Council will all be exhibiting during show hours and HomeSource Design Center will be featuring a dream kitchen giveaway. The Official Show Guide will be inserted into the Asheville Citizen-Times and Asheville Scene, Friday March 15th, giving you a guide at home for home improvement resources for 2013.
For more information about the home show, visit http://www.wnchomegardenshow.com