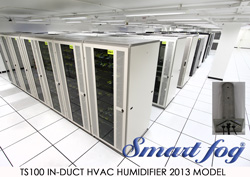 Smart Fog Humidification system provides a double cooling effect delivering additional cooling without additional energy. Yet another benefit of Smart Fog green advantage to the entire data center facility.
Reno, NV (PRWEB) February 28, 2013
Smart Fog, Inc., a provider of industrial and commercial humidification systems, has introduced the 2013 TS100 In-Duct HVAC Humidifier for data center humidity control and cooling.
Data Centers have unique environmental requirements. Their high functioning equipment is sensitive to room temperature and humidity levels. Smart Fog's TS100 addresses both of these concerns with precision engineering and the application of improved HVAC technologies.
Smart Fog's TS100 features an intelligent algorithm controlled humidification system. The system is equipped with a CPLC controller that utilizes these proprietary algorithms to identify and generate the required humidity level for each unique environment.
As data center operators know, humidity levels are half the battle—but the even distribution of humidity is equally important. The TS100 answers this concern through its successful manipulation of the water droplet size. At 4.2 microns, Smart Fog's water droplets are the smallest in the industry. More importantly, they are engineered to provide the right amount of space between water and air—assuring the 100% evaporation of all water while it is airborne. This means no wetting, and no condensation on equipment. A 100% evaporation rate also means that no drains, droplet screens, or specialized insulation are required.
Key to this process is the TS100's ability to control humidity without adversely affecting the temperature of the data center environment. The TS100 is a true adiabatic humidifier, and requires no thermal energy or high-pressure water to operate. This means no power sources are required that would raise the temperature of the room. And the system outputs both water and air particles at the same temperature, so pockets of warm and cold do not occur. The TS100's adiabatic design has the added benefit of reducing energy costs.
The Smart Fog TS100 has several other advantages that will appeal to data center operators. It is a plug and play system that utilizes push to connect technology on all fittings and mountings. Installation is guaranteed to be fast and easy, and because there are no screens, drains or insulation to worry about, once the TS100 is installed it is virtually maintenance free.
About Smart Fog Inc
In business since 1980, Smart Fog® Inc. is the recognized world leader in the industrial and commercial humidification systems industry. All products are manufactured in the United States. Smart Fog, The Humidification Experts, is a world leader in developing unique industrial and commercial humidifier systems to meet the individual needs of your environment.